Butterfly Flarestorm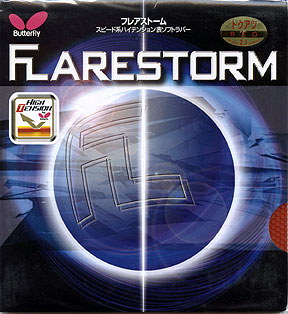 $44
.99
$52.99
Save $8.00 (15%)
Sorry, this item is currently out of stock. You may ask us to send you a restocking notification when this item is back.
Butterfly is proud to announce a real breakthrough in short pip rubber development. Our new Flarestorm Short Pimpled Rubber combines the classic short pip characteristics of quick rebound and flat drives with our High Tension Technology. The result is that short pips attackers now have a rubber that can match the explosiveness of a powerful topspin drive from the fastest inverted rubbers. At the same time, Flarestorm controls your opponent's spin well and offers a high level of control in the short game. This rubber will definitely allow you to drive your opponents back from the table and penetrate their defenses with overwhelming power. Light your own storm with Flarestorm.
Speed: 110
Spin: 60
Density: 36
Reglue Effect: Medium
Additional Information
Rubber FAQ and Guide - what you need to know when buying rubber sheets.
Compare rubber ratings - compare ratings to other sheets.
Best Price Guarantee We guarantee to have the lowest prices (shipping included) in the US. Please tell us if you see a lower price.
Reviews of Butterfly Flarestorm (1)
External Review

for

Butterfly Flarestorm

on March 9, 2013
More of a classic short pip. Less spinny than Raystorm. Sponge feels similar but the pips are not as soft as Raystorm, which I find too soft. Reminds me of TSP Spectol. Hitting is fantastic and so is blocking. Blocking takes a little work. If you block right, you can totally deaden the ball. This is the short pip I use now after trying many. However, I tried this five times before sticking with it. Keeping the pips clean makes a difference -- otherwise, if dirty, they will not grip the ball.