Butterfly Sriver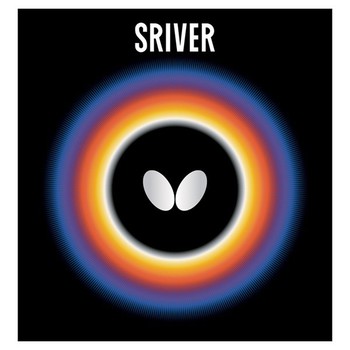 $39.99
$42.99
Save $3.00 (7%)
Best Seller
SRIVER the most successful Butterfly Rubber since it's introduction in 1967. More than 20 World and 70 European Champions have won their titles with Sriver. The combination of the hard and spinney rubber on the surface with a medium hard and flexible sponge makes SRIVER the natural choice for all round attacking players. It's consistency proves it is the all time winner.

Speed: 100
Spin: 80
Control: 82
Density: 38
Reglue Effect: High
new
---
Customers who purchased Butterfly Sriver also purchased:
Additional Information
Rubber FAQ and Guide - what you need to know when buying rubber sheets.
Compare rubber ratings - compare ratings to other sheets.
Best Price Guarantee We guarantee to have the lowest prices (shipping included) in the US. Please tell us if you find a lower price.
Reviews of Butterfly Sriver (65)

View all 65 Reviews
| | |
| --- | --- |
| | External Review on May 16, 2016 |
| | |
| --- | --- |
| | External Review on May 16, 2016 |
| | |
| --- | --- |
| | Review by hungry_cow on May 5, 2016 |
Great all around rubber, excellent control and versatility, no great strengths or weaknesses besides control. Of the all around rubbers to me it has the best ball feel but not quite as much spin and bite as others.
---
| | |
| --- | --- |
| | External Review on January 21, 2016 |
A very good rubber for players who are starting to develop topspin shots and want to branch out into the world of rubbers. I used this myself at the same stage on my FH and one thing I noticed was the control was very good. The Spin and Speed were nothing special but you could keep the ball on the table consistently. I got it because it was fairly cheap and because of the review of it being the top rubber for many professional players. The are many rubbers that are faster and more spinny however for players starting off you can't go too far wrong with this.
---
| | |
| --- | --- |
| | External Review on December 2, 2014 |
For Championship Play! common choice in the past for beginner's to intermediate levels, a Classic, a Legend!
---
| | |
| --- | --- |
| | External Review on September 20, 2014 |
I can't believe all the glowing review this rubber got. Reading the reviews and due to the fact it is supposed to be a classic I got a sheet of Sriver and Mark V MAX just to try out the "classics". I was quite disappointed in the Sriver. Compared directly to the Mark V, I find Sriver had almost no throw and had a plastic feeling. Dwell time was low compared to the Mark V and loops would end up in the net or out. I had no confidence my attacks could land. I hear Butterfly is discontinuing Sriver. Perhaps that is for the best.
---
| | |
| --- | --- |
| | External Review on May 18, 2014 |
If compare to mark v mv is much better on all aspects. Time and evolution has ended the reign of these rubbers, although still very good for intermediate players and the likes.
---
| | |
| --- | --- |
| | External Review on March 7, 2014 |
It is a good old rubber with fantastic control. I changed my BH from Yasaka Mark V to Sriver and got immediate result. I was able to block better with it. Recommended for those who want a rubber with good control but also want to open from BH side.
---
| | |
| --- | --- |
| | External Review on November 5, 2013 |
Back in a day, in early 90s when i was starting out this was the rubber to have.

Living in a small town i had no access to any other rubber but this. Sriver was my TT family basically. There was no internet to buy from China :).

For a 4th grader this was as cool as it gonna get in TT. When i would get a new sheet from my parents i thought i was the king of the world!!! Well since we were not the richest family i was king of the world maybe once per year or so :).

Many years have passed since 90s and i dont see myself using Sriver anymore but this rubber still holds special place in my heart.

Pros:
Rubber has no weak areas of play. Solid all around rubber at this time of age.

Cons:
Bizarrely expensive 25$-30$ per sheet for a dinosaur of a rubber.

I would not recommend this rubber to anybody anymore. Many say it is one of the best beginners rubbers but i think there are many better (yasaka Zap Bio, Palio CJ 8000 Bio and so on) for the fraction of the price. I do understand that "new" rubbers like Zap or CJ have better performance then Sriver but so do "new" beginners then beginners in my time.

Have fun playing TT and be happy :).
---
| | |
| --- | --- |
| | External Review on May 1, 2013 |
I had it as Forehand since i was a kid(sriver s)great for developing topspins variations.then recently used as Bh for 2 years(sriver l),good control also on 2.1 mm thickness.it last for ever.my sriver s red still can generate spin after 15 years!!

View all 65 Reviews