Butterfly Primorac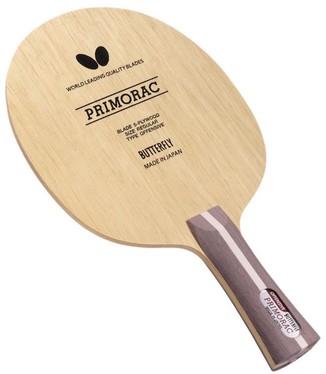 Price: $66.99
$72.99 8% OFF

Best Seller
Free US Shipping
It's African wood (Limba) allows the ball to stay on the racket longer providing good feel and control. A good all-around offensive blade. Compact head-size. BTY's best selling blade of 1995.
Speed: 75
Control: 78
Weight: 87
Ply: 5
---
Customers who purchased Butterfly Primorac also purchased:
Additional Information
Blade FAQ and Guide - what you need to know when buying a blade.
Compare Blades - side-by-side blade rating comparison.
Blade Weight Variations - Actual blade weight may vary by up to 8g.
Blade Sealing/Varnish
You may
add blade sealing
for this blade. Sealing prevents wood splintering.
Free shipping over $50 to contiguous US.
Best Price Guarantee We guarantee to have the lowest prices (shipping included) in the US. Please tell us if you find a lower price.
Reviews of Butterfly Primorac (41)
Submit a short review about Butterfly Primorac.

View all 41 Reviews
External Review on September 22, 2013
| | |
| --- | --- |
| | External Review on June 6, 2014 |
I've played with this blade for 2 years now and was/am really happy with it. It can do just about anything. VERY reliable. Other than that it doesn't excel in anything in particular also. after testing some rubbers, I used Joola xplode sensitive for the backhand and the Donic Acuda S2 for the forehand. it's is a very good combination. I would recommend this to people with beginner or intermiediate attackers or to allrounder. A bit head heavy. comfortable handle with good finish. best value for the money out there!!!
---
| | |
| --- | --- |
| | Review by juanmanuelcalderonaldana on November 16, 2014 |
great control
great speed whith fast rubbers
great for beginners -intermediate-pros
amazing to develop your skills!!!
for sure a BEST SELLER, NO DOUBT!!!
BEST WOOD PADDLE
don´t think, just buy it, there is no more on the market!!!!
---
| | |
| --- | --- |
| | External Review on November 10, 2014 |
this blade it´s a best seller, and i tried so is real any description from this blade, the olda one and the new one are very amazing blades for beginners and intermediate players. you don´t get wronq with Primorac!!!!
---
| | |
| --- | --- |
| | Review by allanedpao on June 16, 2015 |
I give the primorac 5 stars all the way. It is a great control blade that can still be used for attacking with powerful loops and drives depending on your rubbers. Additionally, it also has great touch whenever I need to play defensive by either chopping, pushing, and blocking. The primorac performs very well, and it is my go to blade when playing at the clubs. I put Razka X on my FH and Razka 7 soft on my backhand, which provides me with enough spin and speed to beat most of my intermediate competitors. In my opinion, this is a great blade for all levels of players from beginners, intermediates, and even semi-pros. Get this a great blade to refine your TT techniques and beating your opposition in matches.

View all 41 Reviews