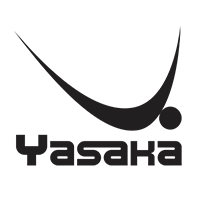 Yasaka
Yasaka was founded in 1947 by Mr Hirosi Yaoita and Mr Sakamoto with the brand name being a combination of their surnames. Mr Yaoita was a table tennis player himself and strived to bring high quality equipment to table tennis players alike. In the 1950ís there was rapid improvement in the technology as Yasaka worked closely with top Japanese players. The Yasaka Original rubber would be used by champions all over the world.
In 1969, Yasaka introduced the Mark V rubber which proved to begin a revolution in table tennis rubber technology that continued throughout the 1970ís. This was evidenced by victories in the Menís 1970 European Championships and 1971 World Championships. Since then Mark V has continued to be developed and manufactured while remaining a popular rubber today.
In the early 1990ís, a new era commenced for Yasaka as they began blade production in TranŚs, Sweden; with the Yasaka Extra blade successfully hitting the market in 1993. The innovation continued into the 2000ís with the introduction of the 17 ply Dynamix 17 blade.
Almost fifty years after the Mark V rubber produced world champions, Yasaka continues to produce champion table tennis players. Yasaka player Ma Lin would go onto have one of the most storied careers in the sport, capturing a Olympic Gold Medal Singles crown, multiple World Championships as well as multiple World Cup titles. The innovation continued with the launch of the Rakza rubber series, beginning with the Rakza 7 in 2010. That was followed by the release of the Rakza 9 and most recently the Rakza X in 2014. As of today, Yasaka remains one of the pinnacle brands in the table tennis equipment industry.
Rubber
Blades
Accessories
Cases
Cleaners
Nets
Rackets
Shoes
Side Tape