Yasaka Anti-Power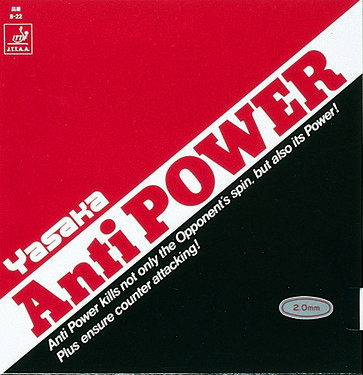 $29
.95
$32.95
Save $3.00 (9%)
Anti-Power is capable of killing any kind of speed and spin. Another feature is the peculiar sound when applying your offensive shots. Any combination of the Anti Power rubber with either the Mark V, Tornado or Extreme will most certainly make you a varied and dangerous defensive or offensive player.
Speed 62
Spin 28
Control 73
---
Customers who purchased Yasaka Anti-Power also purchased:
Additional Information
Rubber FAQ and Guide - what you need to know when buying rubber sheets.
Compare rubber ratings - compare ratings to other sheets.
Best Price Guarantee We guarantee to have the lowest prices (shipping included) in the US. Please tell us if you find a lower price.
Reviews of Yasaka Anti-Power (10)
External Review

for

Yasaka Anti-Power

on December 5, 2017
After transformer I tried this rubber. This rubber is fast relative to transformer. The transition from normal to this anti is not that much compared to transformer. This id faster and easier to handle conpared trasformer. However the spin reversal is lesser. My second block can be easily be spin again. This rubber excel in fast attack and change in tempo. The change in tempo can be done by changing your grip to lighter hold. Highly recommended.
---
External Review

for

Yasaka Anti-Power

on September 17, 2016
Fast and quite difficult to learn it. Deceptive but only in offensive strokes. Not for passive play,you have to take the initiative in order to obtain the best of this rubber. In proper hands it could become a dangerous weapon.
---
Review by

iolat

for

Yasaka Anti-Power

on September 4, 2016
Fast anti and hard to learn.Able to perform both, defensive/offensive strokes.Very deceptive but only in offensive strokes.You have to be very active(offensive) with it, otherwise is quite easy for your opponent.
Decent price and durable.
---
External Review

for

Yasaka Anti-Power

on April 24, 2016
I was given one that was 2 or 3 years old from a friend - it plays like new!
There is almost no throw angle - it is great for blocking. I feel it has a better reversal than some others think. There is no doubt about how durable this rubber is. A fantastic anti, definitely worth the price (especially if you get it for free like I did)!
---
External Review

for

Yasaka Anti-Power

on August 29, 2014
I'm reviewing the 2mm version red. Used it on a stiff all around blade.

Chopping is very controlled even with bad technique, although spin variation is almost non-existent. Fast enough for smashing. Drop shots are hard to execute -- I can only do it sometimes, but I think it can be done with practice. Tacky enough to topspin a no-spin ball. Low to medium spin get killed on a flat hit, heavy spin gets some reversal. Service receive is very forgiving.

Good for control and speed. Less suitable for deception and change of pace.
---
External Review

for

Yasaka Anti-Power

on March 16, 2014
The best commercial Anti in the world. But much difficult the use.
Pro: disturb, inversion, speed, control.
Cont: speed, no grip.
---
External Review

for

Yasaka Anti-Power

on January 14, 2012
External Review

for

Yasaka Anti-Power

on October 14, 2011
I play with this rubber and It is not difficult to block with it. You can hit the ball fast if its even a little high as it inverts the spin. Good to play against offensive players. And it lasts a really really long time!
---
External Review
for
Yasaka Anti-Power
on September 23, 2009