Butterfly Tenergy 25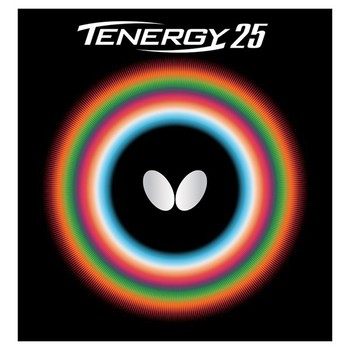 Free US Shipping
Tenergy is a revolutionary pimples in rubber. It combines the original "Spring Sponge" and High Tension technology designed by Butterfly.
The best for playing close to the table following extensive tests by both technology and players. Tenergy 25 enables the player to attack strongly with both spin and power whether near to the table or at half distance. It is the perfect answer for the player of today and tomorrow. Tenergy is also the fastest and most explosive rubber in Butterfly line all without the use of any speed-glues or tuning. Tenergy 25 will keep its speed throughout the life of the rubber without need for any special treatments.
"Spring Sponge". Spring Sponge feels hard yet its new technology allows it to hold the ball on the racket longer.
High Tension rubbers have tension built in to the sponge and top-sheet. This helps reduce the amount of energy lost at the point of impact. In essence, it turns the speed of your opponents shot into additional power for you. In short, High Tension rubbers are fast, VERY FAST. The first such rubber was Bryce, introduced in 1997. It is by far the most widely used rubber among Butterfly's sponsored players including the 2003 World Champion, Werner Schlager(AUT).

Speed: 135
Spin: 110
Density: 36
Reglue Effect: Medium


---
Customers who purchased Butterfly Tenergy 25 also purchased:
Ordering Information
Rubber FAQ and Guide - what you need to know when buying rubber sheets.
Compare rubber ratings - compare ratings to other sheets.
Free shipping over $50 to continental US.
Best Price Guarantee We guarantee to have the lowest prices (shipping included) in the US. Please tell us if you find a lower price.
Reviews of Butterfly Tenergy 25 (28)
Submit a short review about Butterfly Tenergy 25.

View all 28 Reviews
| | |
| --- | --- |
| | External Review on April 7, 2013 |
Tested with a Stiga Maplewood NCT V

- Works well for active BH blocks & mid distance BH loops.
- Ball can be placed very accurate.
- Nice BH rubber.
---
| | |
| --- | --- |
| | External Review on February 2, 2015 |
-Compared to T Energy 05 and 64, the pimple surface on the inside is simple massive.
-The large pimples inside help with controlling shots.
-Excellent for close to the table play as you can counter any hard hit shots easily while maintaining control but when you need to hit a little bit harder, the rubber still provides enough power.
-I am a penholder that uses Reverse-Penhold Backhand occasionally but I don't use it all the time. I was looking for a rubber that could handle flicks, counter-attacking from up close, and could handle my mediocre RBP technique. This rubber handled everything
-I had T-Energy 64 before and I honestly couldn't handle the sheer power of it so i wanted something more controlled and manageable. T-Energy 25 was the perfect solution to my RPB since I don't use it very often and when I need to use RPB, I feel confident I can counter any shots with ease.
-Excellent up close and can handle medium distance relatively well but more effort is required.
-I use 1.9mm red rubber sheet
---
| | |
| --- | --- |
| | External Review on October 23, 2014 |
The best rubber for blocking and fast topspin. Very suitable for the backhand.
---
| | |
| --- | --- |
| | External Review on February 17, 2013 |
Update: I recently switched to playing with Tenergy 25 on both sides, and my search is finally complete. I cannot stress how fantastic this rubber is. It plays with many gears. You can hit it softly and precisely with the hard rubber, you can generate a decent amount of spin on a short push using only the topsheet. when hitting the ball harder and swinging full strokes, this rubber has an unlimited supply of power. It doesn't always seem as fast as 05/64 because it does play like a hard rubber. If you let your arm speed work, and use your feet and hips with your swing, this rubbers speed and trajectory are unmatched.

Further, on an off-the-bounce shot or a block, the rubber just puts the ball over the net and onto the other side of the table.

It's serves surpass the 05/h3/tg2 and other quality rubbers if you learn to control the sponge and topsheet well.

This rubber is extremely underrated. Using this on both sides, I beat a player over 500 points over my rank and it felt easy. Rubber is not always the solution, but if it matches your style, it can be a good aid.

This rubber plays like a Tennis player would demand it to. Also, if you prefer chinese fh but want a little catapult, this should suffice. It is a rubber for pacing and driving.

Short Push: T80 = T25 > T05 > T64
Counterloop: T25 > T80 > T64 > T05
Brush Loop: T05 > T25 > T80 > T64
Drive: T25 > T64 > T80 > T05
Chop: T25 > T05 = T80 > T64
Lifting Underspin: T05 > T80=T25=T64
Mid-distance: T64 > T25 > T05 > T80
Control: T25 > T05=T80 > T64
Speed: T64 (less/equal) T25 > T80=T05

A lot of this has to do with technique as mentioned above.
---
| | |
| --- | --- |
| | External Review on February 15, 2013 |
I tested T25 1.7mm black, for ar possible replacement of mine T05 1.7mm black.

I'm playing with Yinhe 980 blade (speedy and rigid def blade) + Spinlord Dornenglanz long pips + Tenergy 05 1,7mm. I'm an allrounder and I play near the table, spinning, blocking and smashing. I'm a kind of mix between Pushblocker and Akkertrom...

One word: "Perfect"

I liked T05 very much, but I had to concede that pushes, returns, blocks where a bit delicate. I was always struggling to keep the ball on the table and not too long.

With the T25, I keep most of the great T05's qualities en I improve a lot the control for all the shots where I was struggling with T05.

Block: A lot easier with T25. I feel immediately a better control and and I'm able to vary the deepness and the placement of my shots. I can absorb the energy of the incoming loop and make a short and dead block or accelerate. Smash the incoming loop is also easier. This is a very strong point of T25.

Smash: Same. Great control that gives a lot of confidence for smashing.

Pushes: With T05, keep pushes short enough and not out of the table is a constant chalenge. With the T25, I have no more this catapult effect that insecure the pushes and I control easily the ball making pushes long or short, where I want.

Serves: Coming from T05, its easier to place the ball and keep it lower. But, I had the feeling that I was able to give a lithe bit more spin with T05. I think that the T05 is more dangerous for serves because of this ability to give more spin.

Loops: The trajectory of the ball is flatter with T25. I think that T05 is a very high throw rubber and that the T25 is a lower throw rubber. But this doesn't mean that T25 have a low throw. I will say that it' a medium throw rubber an that it's still higher than a lot of other rubbers. I also have the feeling that T25 gives a little less spin on the ball. But it's still spiny... T25 ask to pay attention to the net when T05 gives more arc and latitude to stay over the net. Personally I prefer the flatter trajectory of T25. From mid-distance, the T25 is still enough dynamic for looping balls easily.
For counter-looping near the table, I think that T25 is better than T05. I think that T05 because of his higher throw is worse than T25 for this kind of shots. With T25 on some shots as looping incoming serves or counter spinning incoming loops near the table the ball tent to be long because of the higher throw. For this shots, with a lower throw, the T25 gives me a better result.
Far from the table, the T05 gives more ease and better results, the T25 is still good but requires more energy to return balls on the table.

Throw angle: T05 = Very high T25 = Average
Spin: T05 = 9/10 T25 = 8/10
Control: T05 = 6,5/10 T25 = 9/10
Speed: T05 = 9/10 T25 = 8/10
Hardness: T05 = 7/10 T25 = 7/10

It seems that everybody have not the same opinion about the speed of this rubbers, but, in my opinion, the T25 is just a little bit less speedy that the T05. Maybe, the better control gives me this feeling?

About hardness, I had not really the feeling that T25 was a bit harder. It's only a different feel because of the bigger pips from the T25.

Conclusion: The T25 is done for me and fit perfectly my style. I liked T05 very much, but with T25 I keep most of the great qualities of T05 and he add other great qualities that are completely essential for the way I play. Adopted!

View all 28 Reviews