Butterfly Tenergy 25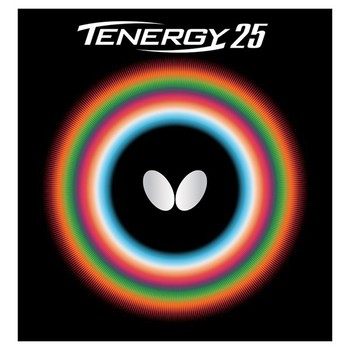 Free US Shipping
Tenergy is a revolutionary pimples in rubber. It combines the original "Spring Sponge" and High Tension technology designed by Butterfly.
The best for playing close to the table following extensive tests by both technology and players. Tenergy 25 enables the player to attack strongly with both spin and power whether near to the table or at half distance. It is the perfect answer for the player of today and tomorrow. Tenergy is also the fastest and most explosive rubber in Butterfly line all without the use of any speed-glues or tuning. Tenergy 25 will keep its speed throughout the life of the rubber without need for any special treatments.
"Spring Sponge". Spring Sponge feels hard yet its new technology allows it to hold the ball on the racket longer.
High Tension rubbers have tension built in to the sponge and top-sheet. This helps reduce the amount of energy lost at the point of impact. In essence, it turns the speed of your opponents shot into additional power for you. In short, High Tension rubbers are fast, VERY FAST. The first such rubber was Bryce, introduced in 1997. It is by far the most widely used rubber among Butterfly's sponsored players including the 2003 World Champion, Werner Schlager(AUT).

Speed: 135
Spin: 110
Density: 36
Reglue Effect: Medium
---
Customers who purchased Butterfly Tenergy 25 also purchased:
Additional Information
Rubber FAQ and Guide - what you need to know when buying rubber sheets.
Compare rubber ratings - compare ratings to other sheets.
Best Price Guarantee We guarantee to have the lowest prices (shipping included) in the US. Please tell us if you find a lower price.
Reviews of Butterfly Tenergy 25 (29)

View all 29 Reviews
| | |
| --- | --- |
| | External Review on April 7, 2013 |
Tested with a Stiga Maplewood NCT V

- Works well for active BH blocks & mid distance BH loops.
- Ball can be placed very accurate.
- Nice BH rubber.
---
| | |
| --- | --- |
| | External Review on February 17, 2013 |
Update: I recently switched to playing with Tenergy 25 on both sides, and my search is finally complete. I cannot stress how fantastic this rubber is. It plays with many gears. You can hit it softly and precisely with the hard rubber, you can generate a decent amount of spin on a short push using only the topsheet. when hitting the ball harder and swinging full strokes, this rubber has an unlimited supply of power. It doesn't always seem as fast as 05/64 because it does play like a hard rubber. If you let your arm speed work, and use your feet and hips with your swing, this rubbers speed and trajectory are unmatched.

Further, on an off-the-bounce shot or a block, the rubber just puts the ball over the net and onto the other side of the table.

It's serves surpass the 05/h3/tg2 and other quality rubbers if you learn to control the sponge and topsheet well.

This rubber is extremely underrated. Using this on both sides, I beat a player over 500 points over my rank and it felt easy. Rubber is not always the solution, but if it matches your style, it can be a good aid.

This rubber plays like a Tennis player would demand it to. Also, if you prefer chinese fh but want a little catapult, this should suffice. It is a rubber for pacing and driving.

Short Push: T80 = T25 > T05 > T64
Counterloop: T25 > T80 > T64 > T05
Brush Loop: T05 > T25 > T80 > T64
Drive: T25 > T64 > T80 > T05
Chop: T25 > T05 = T80 > T64
Lifting Underspin: T05 > T80=T25=T64
Mid-distance: T64 > T25 > T05 > T80
Control: T25 > T05=T80 > T64
Speed: T64 (less/equal) T25 > T80=T05

A lot of this has to do with technique as mentioned above.
---
| | |
| --- | --- |
| | External Review on May 29, 2010 |
During the last year I´ve exitensively tested (over 20 different inverted rubbers) all of the Tenergies and compared them to a fiew ESN-rubbers and quicker chinese Rubbers like LKT Rapid Speed, Friendship Higher 1-3 and lately with the surprisingly slow Spin Art (which is in no way close to the tenergies) I`ve decided to stick to Tenergy 25. It might produce a tiny little bit less spin than tenergy 05, but it has other properties, that make it the better rubber for my game. One important factor is the blocking. Blocking with the Tenergy 05 only works well if you block actively (spin-block), so the higher the playing skill the smaller the problem might be. But for me as a mid-class player it is also important to be able to block passively which the T25 does perfectly. In my opinion this also has to do with the T25 being softer than T05 despite the fact, that T 25 was promoted as the hardest, but it is definitley softer than T05 (and harder than T64). So blocking and hitting is superb with T25. The T25 pushes more controlled than the T05 and produces aproximately the same amount of spin, which is a lot. TheT25 top-spins have a lower throw than with T05 but still countertopping from midrange works extremely well since it is highly dynamic and really gives you the feeling that when countertopping the rubber itself has a worked in powerplant that throws the top-spin back at your oponent. What is even more lovely ist to play counterloops over the table which works perfectly. This to me is very important since I play a long pimple ox on one side of the bat (I twiddle very often and tend to stick very close to the table and attack whenever the chance arises) and very often chop-block or chop from mid-distance and almost never from long distance and force my oponents to return the spinny but fast chop-blocks with a push (which I will attack with T25 on backhand or forehand since there`s always enough time to twiddle on a push) or as intended counter-top the forced slow and spinny top-spins over the table or the highest point.

Now the biggest surprise with the T25 is its`chopping ability. It is seriously crazy. I`ve chopped with all the offensive rubbers I´ve tested and there is not one that is even slightly as good as the T25. Even whith very little time to react an short energetic movement with the wrist leads to a dead straight ball that is loaded with spin and even when the next top-spin comes slower and with extreme spin you can control the chops extremely well. Obviously Joo Sea Hjuk does all of this very well with T64, but with the T25 it is much easier to control the ball and keep it shallow.

So the conclusion is, that although none of the famous players seem to play the T25 it is the one that is the most versatile. For me the chopping is not so important, since I scarcely play long distance but I know two more modern defensive players who play it. One of them is a teenager playing in a german talent pool.
I´m convinced that there will be more high-level defenders using it in the future.

The T25 is an outstanding allround rubber!

I play it on the Juic Kalinic Allround, which is a stiff blade to be allround and is actually rather an Off- blade. After having also tested over 30 different long-pips I now play the double fish 1615 ox that Lo Chuen Tsung used to play (one of my role models), which is the best pimple for chop-blocking and chopping from mid-distance in my opinion. The T25 I play in 2,1mm. The talent pool player plays it in 1,9mm on a Timo Boll Spark and combines it with a Curl P1 R ox. He got the Spark from Ruwen Filus, who also plays it, but uses T05, but Ruwen Filus really doesn`t chop with the inverted rubber at all.

Greetz 2U all
---
| | |
| --- | --- |
| | External Review on May 16, 2010 |
Loops and counterloops are realy great to play. Serves are spinny and easy to place. Short game is also very well to play. If you like to loop with a more forward style stroke near at the table than i would advise to use the T25. If you like to loop against loop with a more upwards style stroke than you should better use the T05. If you also like to loop far away from the table the best choice is the T64.
---
| | |
| --- | --- |
| | External Review on April 15, 2010 |
Cons - Expensive, just like any other Tenergy.

Pros - I was suprised by what this rubber did. Throw angle is a lower than the other Tenergy's, meaning good quality close-to-table blocks and attacks. Much more of a crispy feel to it, compared to Tenergy 05. Control was slightly better than the other two Tenergy's, possibly because of the throw angle. Durability was nearly as good as a Chinese rubber, possibly due to the massive pips embedded. Smashing and looping was good. Be aware, if you step out about a foot or two, a bigger stroke is needed to get the ball back. Con is just price, too expensive.
---
| | |
| --- | --- |
| | External Review on March 31, 2010 |
This rubber is a perfect 10. A lot of spin, fast and controlled while playing passive strokes. Perfekt forehand rubber for me. You can play very spinny loops on underspin and also very hard topspin topspin with your opponent. The difference to T05 is that you dont need to reduce your power while lift the ball. So you can play as fast and hard as you want. With T05 the throw angle is too high and a lot of the loops on underspin are not difficult enough to block. If you are playing spinny Tops all the game than T05 will be better. If you are playing spinny loops and fast strokes as well and have the alternative to block than T25 is the better one for you
---
| | |
| --- | --- |
| | External Review on February 26, 2010 |
Great control and lightning fast speed. Perfect for over/close to the table and mid distance attacking type of play. I just love it on my forehand side. If you can put up with the pace it delivers you don't need anything else. I combine it with a Donic Lagonda blade and couldn't be more pleased.
---
External Review on October 13, 2009
| | |
| --- | --- |
| | External Review on September 15, 2009 |
25 has the same basic cons as 05 - heavy (especially in 2.1mm) and expensive. However, it has many of the positives, but does behave quite differently.

Although Butterfly market it as the "hard" version, that's more of a reflection of how it plays rather than how it feels. All the Tenergies have the same sponge, but 25 has MASSIVE pips on the rubber sheet. This results in a lower throw angle than 05 and 64 (although it's not that low when compared to a hurricane, for example - it's just lower than the other Tenergies).

So, you get the great pace and easy spin of a Tenergy (serves are loaded), but with the low throw I found blocking and hitting easier. Flipping and looping over the table was nice and easy, but from mid-distance and up it became harder and more effort is needed than 05 and 64. The hard feel results in slightly less mechanical spin, but it's fractions out, and still light years ahead of the last generation of High Tension / Tensors. Hopefully it lasts as long as 05, which has proved to be amazingly durable if you avoid ripping it accidentally.

If you play mostly over the table, or previously used glued low-throw chinese rubbers, then 25 is well worth a go. I still use 05 on the forehand, but struggled to adapt my backhand to it. 25 is a much better fit for me on the backhand side, and I'm sticking with it for now!
---
| | |
| --- | --- |
| | External Review on June 14, 2009 |
After much consideration and reluctance I decided to get T25 even though most players use T05 and T64. Because the T25 was so fast and spiny I thought it would be very difficult for me to control. I was wrong. T25 is great close to the table and mid-distance. Loops and drives are a consistent with lots of power and spin. I thought the rubber would die down in the mid to long distance rally but because of the spring sponge technology and the speed rating you can play with it from close or far away from the table. Serves are extremely spiny and those first topspin loops are also easy to execute and have a lot of pace on them. I was pleasantly surprised by the amount of control with rubber has. The ball always goes on the table. If you have good technique and strokes T25 will improve your game remarkably and boost your confidence because you can handle whatever is thrown at you. Overall a great rubber especially on an arylate/carbon blade like Michael Maze.

View all 29 Reviews