Butterfly Sriver G2 FX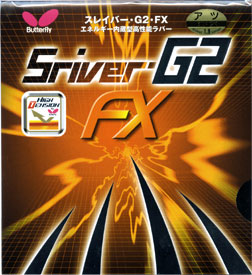 Price: $47.99
$55.99 14% OFF

Butterfly is proud to introduce a soft-sponge version of the new Sriver G2, the G2 FX. Finally there is a rubber for the technical offensive players that features Butterfly's High Tension Technology. Great glue sound, explosive spin and speed, this is the perfect rubber for most all-round attacking players. Until now, most High Tension Rubbers were designed for all-out power players. Now the players who like to win points through variable spin play have their own High Tension Weapon, Sriver G2 FX.
The new SRIVER G2, powered by Butterfly's High Tension technology.

Speed: 115
Spin: 95
Control: 82
Density: 32
Reglue Effect: High
---
Customers who purchased Butterfly Sriver G2 FX also purchased:
Ordering Information
Rubber FAQ and Guide - what you need to know when buying rubber sheets.
Compare rubber ratings - compare ratings to other sheets.
Free shipping over $50 to continental US.
Best Price Guarantee We guarantee to have the lowest prices (shipping included) in the US. Please tell us if you find a lower price.
Reviews of Butterfly Sriver G2 FX (22)
Submit a short review about Butterfly Sriver G2 FX.

View all 22 Reviews
| | |
| --- | --- |
| | External Review on September 23, 2013 |
It took me more than a year to find out that I liked it so much I rated it 9/10 for my BH as I believe 10/10 the perfect rubber does not exist.
It excels in control and recieves serves, blocks, pushes, chops, flicks, loops, drives quite well, infact does all pretty well. Not really fast which translates to better control and accuracy. I consider it a control rubber and for my game at the moment, I consider it the Best BH Rubber in the World
---
External Review on December 11, 2012
| | |
| --- | --- |
| | External Review on July 1, 2012 |
This is first rubber that I used on a ALL+ J-pen for about 2 months. This is good rubber for looping and spins. A little less speed and spin than tenergy but tenergy might be too fast for some people (especially a beginner).
---
| | |
| --- | --- |
| | External Review on September 16, 2011 |
Great product for overall play. Good spin, only a bit less than Tenergy, but at half the price. Combine it with fast blade like tbs or alc.
---
| | |
| --- | --- |
| | External Review on August 21, 2011 |
Pretty disappointed, its throw angle is very low compared to Sriver FX and loops are not as strong, its not as fast as Butterfly advertise. Similar spin characteristics as Sriver.

View all 22 Reviews