Butterfly Sriver G2 FX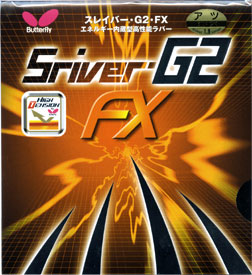 Sorry, this item is currently out of stock. You may ask us to send you a restocking notification when this item is back.
Butterfly is proud to introduce a soft-sponge version of the new Sriver G2, the G2 FX. Finally there is a rubber for the technical offensive players that features Butterfly's High Tension Technology. Great glue sound, explosive spin and speed, this is the perfect rubber for most all-round attacking players. Until now, most High Tension Rubbers were designed for all-out power players. Now the players who like to win points through variable spin play have their own High Tension Weapon, Sriver G2 FX.
The new SRIVER G2, powered by Butterfly's High Tension technology.

Speed: 115
Spin: 95
Control: 82
Density: 32
Reglue Effect: High
Additional Information
Rubber FAQ and Guide - what you need to know when buying rubber sheets.
Compare rubber ratings - compare ratings to other sheets.
Free shipping over $50 to contiguous US.
Best Price Guarantee We guarantee to have the lowest prices (shipping included) in the US. Please tell us if you find a lower price.
Reviews of Butterfly Sriver G2 FX (22)
Submit a short review about Butterfly Sriver G2 FX.

View all 22 Reviews
| | |
| --- | --- |
| | External Review on October 21, 2008 |
This is probably my favourite rubber. I tried a lot of stuff, like tensors, chinese rubbers, but when I go back to G2 FX I always play better. The point is the rubber isn't really the best in anything, but it's very good in everything. And it's also very easy to play and play competitively.
I used it before in the backhand of a Cpen blade and love it. Now I changed style and use it on a Jpen blade (Darker Speed 70, 10mm). I picked a 2.1mm instead of MAX thickiness. Max doesn't give much touch compared to 2.1mm. And speed is not a problem since my blade is very fast.
Weight is another good from this rubber, it's very light compared to Bryce, Sriver or Mark V.
I don't see any cons of G2 FX if you use a fast blade. However, if you pick a light, 5-ply soft blade such as Extra or Allround Classic, this rubber might not give power enough on high speed exchanges.
I highly recommend G2 FX to any player who wants to play consistently. Sure I will buy it again.
---
| | |
| --- | --- |
| | External Review on September 21, 2008 |
Blade Used: Photino and Keyshot Light
Glued?: Yes and No
Thickness: 1.9
Color: Red

Tried using this rubber on a Photino and Keyshot Light and on both, gives very consistent performance. It's not overly bouncy but loops are quite easy to execute. Chops and blocks are a breeze with very good control. It's not Sriver of course in control, but it has that Sriver-like feel to it.

2nd week using this rubber, used them glued using Fair Chack. the performance changes are pretty obvious and I'm getting more speed and spin on it, plus a decent popping sound to boot.

The rubber is quite light and as with all other butterfly rubbers, durability is not a concern.
---
| | |
| --- | --- |
| | External Review on April 9, 2008 |
This rubber is a looping monster. Very spinny(mechanical wise) and good control. The topsheet is rather hard though.
---
| | |
| --- | --- |
| | External Review on July 1, 2012 |
This is first rubber that I used on a ALL+ J-pen for about 2 months. This is good rubber for looping and spins. A little less speed and spin than tenergy but tenergy might be too fast for some people (especially a beginner).
---
| | |
| --- | --- |
| | External Review on September 16, 2011 |
Great product for overall play. Good spin, only a bit less than Tenergy, but at half the price. Combine it with fast blade like tbs or alc.
---
| | |
| --- | --- |
| | External Review on August 21, 2011 |
Pretty disappointed, its throw angle is very low compared to Sriver FX and loops are not as strong, its not as fast as Butterfly advertise. Similar spin characteristics as Sriver.
---
| | |
| --- | --- |
| | External Review on October 10, 2010 |
low throw angle. not very good for blocking. better if u want to loop spinny but its not easy if opponent gives u a lot of backspin.
---
| | |
| --- | --- |
| | External Review on September 2, 2010 |
External Review on August 24, 2010
This is similar to Sriver but I agree it definitely has a lower throw angle. Regular Sriver has a much higher throw, and this rubber doesn't really do anything that regular Sriver does, maybe just a little more speed. For the money should skip this any try Cermet or Tenergy.
---
External Review on August 2, 2010

View all 22 Reviews