Butterfly Bryce Speed FX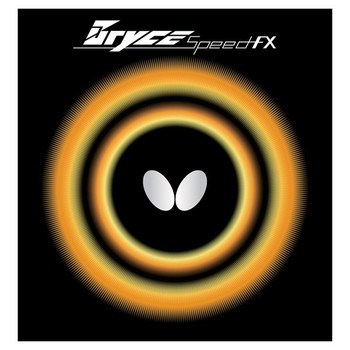 $74.99
$79.99
Save $5.00 (6%)
Free US Shipping
BRYCE SPEED FX uses the same rubber as BRYCE SPEED but it possesses a softer and more flexible sponge, the effect is greater control. BRYCE SPEED FX is one of the new generation of rubbers produced by Butterfly High Tension Technology; it is suitable for both club players as well as high class internationals.
* This is a highly delicate product. You are recommended to protect the rubber surface with a Rubber Film by Butterfly or a similar product after a match or a practice.
Speed: 140
Spin: 97.5
Density: 32
---
Customers who purchased Butterfly Bryce Speed FX also purchased:
Additional Information
Rubber FAQ and Guide - what you need to know when buying rubber sheets.
Compare rubber ratings - compare ratings to other sheets.
Best Price Guarantee We guarantee to have the lowest prices (shipping included) in the US. Please tell us if you find a lower price.
Reviews of Butterfly Bryce Speed FX (33)

View all 33 Reviews
External Review on April 6, 2015
| | |
| --- | --- |
| | External Review on December 2, 2014 |
SUPERB Speed, but the rubber doesn't meet the requirements of my playing style..
---
| | |
| --- | --- |
| | External Review on June 9, 2014 |
| | |
| --- | --- |
| | External Review on February 21, 2014 |
i think bryce speed fx is a great rubber for forehand its speed is good and control also is good it is a slightly spinny i like the rubber it was good playing with this
---
| | |
| --- | --- |
| | Review by patmccloughan on February 26, 2013 |
I've tried this for a few weeks (beginning end of Jan 2013) on both sides (b/hand 2.1 and f/hand 1.9) on a classic Stiga carbon blade. Played with original Bryce before (in my view, the best every rubber, even in the post-speed glue era). Bryce Speed FX has soft feel but very fast with decent spin and good touches (more controllable than Bryce Speed). However, I've been disapponted with it on b/hand and reverted to original Bryce on that side, which allows better control and therefore more spin and placement. Very happy now with original Bryce on b/hand (2.1) and Bryce Speed FX 1.9 on f/hand. Note that all Bryce rubbers are low-medium throw angle - these are designed for good technique players who impart speed and spin themselves from the legs up (a bit like "players' tennis rackets", where the players must make the effort). High throw rubbers like Tenergy, which I've tried and didn't like, seem to compensate for poor technique in modern players, where there appears to be heavy reliance on the rubber itself to produce speed and spin, which is worrying for the game of table tennis.
---
| | |
| --- | --- |
| | External Review on May 30, 2012 |
| | |
| --- | --- |
| | Review by billychew on August 14, 2011 |
At first I thought this rubber will be very fast and hard to control, but I was wrong! It has sufficient power but it also provides good control because of its soft sponge. Throw angle is obviously low. However, Tenergy 64 is still better for a backhand rubber. Overall, this is a very good rubber.
---
External Review on May 8, 2011
| | |
| --- | --- |
| | External Review on April 23, 2011 |
| | |
| --- | --- |
| | External Review on March 17, 2011 |
Really fast rubber generating more spin than original Bryce Speed. It has a soft sponge really but it doesn't mean it has a lack of controll. It's lifetime is significantly longer comapring to Bryce (rated "lats longer than average"). I'd say it's a good choice for universal attackers, it provides a variable game.

View all 33 Reviews