Donic Vario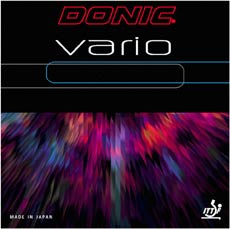 $32
.95
$37.95
Save $5.00 (13%)
Sorry, this item is currently out of stock. You may ask us to send you a restocking notification when this item is back.
The key for Victory. One of the best selling rubber sheets in the World. Semi hard sponge, excellent spin elasticity, very fast and good control. This rubber sheet was designed for the 3 time European Champion Mikael Appelgren of Sweden.
Speed: 87
Spin: 87
Control: 78
Additional Information
Rubber FAQ and Guide - what you need to know when buying rubber sheets.
Compare rubber ratings - compare ratings to other sheets.
Best Price Guarantee We guarantee to have the lowest prices (shipping included) in the US. Please tell us if you to lower price.
Reviews of Donic Vario (1)
External Review

for

Donic Vario

on February 28, 2009
The donic vario inverted rubber is a must try rubber for all offenisve loopers. it is simply such a great rubber for looping.

The spin and speed are both very good. They definitely match the qualities of like tenergy or hurricanes (except faster than hurricane, less spinier). This creates great loops. My loops were lightning fast, and they were extremely spinny too. The spin does not really come from teh topsheet, b/c its not very tacky. The sponge is pretty hard, but very elastic, so it really grips onto the ball for great spin.

The control is not great, but it is adequate for loopers. I tried this rubber with some booster and water glue, but i believe it is a speedgluing rubber.