Donic Baxster F1-A Pips Out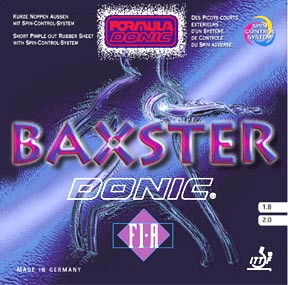 $33
.99
$44.95
Save $10.96 (24%)
Now we have a fast pips out rubber sheet with our DONIC FORMULA technology.
Baxter F1-A masters ball control in slow rallies, yet gives explosive power for the fast attack strokes.
The results of the integrated molecular tension of FORMULA DONIC.

Speed 91
Spin: 64
Control: 72

---
Customers who purchased Donic Baxster F1-A Pips Out also purchased:
Additional Information
Rubber FAQ and Guide - what you need to know when buying rubber sheets.
Compare rubber ratings - compare ratings to other sheets.
Best Price Guarantee We guarantee to have the lowest prices (shipping included) in the US. Please tell us if you find a lower price.
Reviews of Donic Baxster F1-A Pips Out (3)
External Review

for

Donic Baxster F1-A Pips Out

on April 19, 2015
I use this rubber as a close-to-table offensive player and find it very effective as a BH rubber. It's not very tricky, but it goes where you hit it. It's also quite insensitive to spin which makes it easy to attack serves. I generally twiddle with it when a serve comes to my FH. It's also effective flicking short serves. I didn't find it blindingly fast (I have the 2.0mm version) but fast enough to be troubling. Soft blocks tend to drop dead causing many loopers to have trouble relooping strongly. I don't win many points outright off it but it often sets up attacking opportunities for my inverted FH.
---
External Review

for

Donic Baxster F1-A Pips Out

on September 29, 2009
This is a pretty good rubber. It has high speed but at the same time good control. Nice for pushing and lifting balls. What i did not like about it is that it has no spin and almost NO deception. The pips are wide and flat so there is almost no space between them which makes it not produce any spin. It produces a knuckle ball all the time. If you cant place the ball just at the rite place it will most likely get killed. I won a few matches at the beginning because my opponent didn't know what to do with it since he didn't see there was no spin. When he figured it out i got killed tree in a row. This rubber is fun to play with mess around but it will be hard to play against same people over and over again.
---
External Review

for

Donic Baxster F1-A Pips Out

on February 1, 2009
Th donic baxster f1-a short pips rubber is a very good rubber for offensive players who use short pips to attack. This rubber has a very explosive feel, it is extremely fast, great for smashes and drives. There is not much spin, but you can not expect much from a short pips rubber. The control is very good. It is very simple with a good stroke and technique to make killer smashes and drives. It is great for countering different kinds of spin. I also found that it was really good for blocking as well, you could really control the speed and pace of the ball. I think its better to be used on backhand.