Donic Coppa Tagora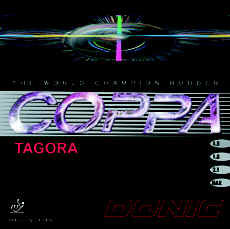 One of the most sensational innovations from the Japanese rubber sheet production in over 10 years! The brand new Coppa Tagora combines all the outstanding playing features of the World Championship rubber Coppa and Coppa Tenero. Tagora has about the same speed as Coppa and the same control as Tenero.The secret is a totally new invention of a highly elastic soft sponge from Japan. Despite the extreme softness it delivers an unbelievable catapult effect. The top sheet is designed for maximum grip and spin elasticity. The result, dynamic topspin, powerful shots, aggressive blocks and plenty of touch for short flips. Passive and soft blocks and even balls with under-spin can be easily controlled.With the new 40 mm ball Coppa Tagora is the ideal synthetic choice for offensive and allround players.

Speed: 90
Spin: 90
Control: 84

---
Customers who purchased Donic Coppa Tagora also purchased:
Additional Information
Rubber FAQ and Guide - what you need to know when buying rubber sheets.
Compare rubber ratings - compare ratings to other sheets.
Best Price Guarantee We guarantee to have the lowest prices (shipping included) in the US. Please tell us if you find a lower price.
Reviews of Donic Coppa Tagora (6)
External Review

for

Donic Coppa Tagora

on March 12, 2013
This is nice controllable rubber much like Sriver with softer sponge. Do not pair it with soft blades because that racket will be too slow or feel too mushy.
Big problem is very short durability. It wears out in about 4 months and has no friction at all. If you have money to buy new Tagora every 3 month great choice for amateurs. If not, try something similar that will last longer.
---
External Review
for
Donic Coppa Tagora
on March 28, 2012
Great rubber for recreative players. Decent speed and control are not the main isuues here. You should buy this rubber for it's spin. My blade is Yasaka extra (very light). When you put Tagora on, you can give extra underspin with your wrist alone. When you put your whole body to it (in serve for example), opponent gets in serious trouble. Topspin is great also. First day using this rubber I crushed competition which gave me trouble yesterday :-) If i'm to say something that is not perfect about Tagora, that would be playing from far distance from the table. I mean really far. But, if you play from very far from the table you're probably top rankig player and in need for something Accudalike.
People say that Tagora is not made for new water glue. This can bother you if you are competitive player. If you play for fun or in some minor league, get this rubber, it might be perfect for you.
---
External Review

for

Donic Coppa Tagora

on July 18, 2011
Best looping rubber I've played with. Sponge is soft so spin is very good. Control and speed are also excellent. Can loop, loop drive, push, flick, serve with ease. Worth what you pay for.
---
External Review

for

Donic Coppa Tagora

on March 23, 2011
External Review

for

Donic Coppa Tagora

on February 25, 2011
Very good for backhand very versatile! very spinny but lacks the speed of the modern offensive game the everybody loves.... But all in all it is very good
---
External Review

for

Donic Coppa Tagora

on February 1, 2009
The donic coppa tagora is a light rubber with a soft sponge,.it is not really fast and serving and chopping is ok , not to much effect in that 2 strokes.
Looping is very good and so is the control, looping heavy underspin can be done with ease, and blocking is very good to due to the control and so is this rubber in the short game.
Hitting is good although the sponge is soft and may lack some power on a soft blade. therefore it can be used best on a harder blade i would say, It could fit an alround to an offensive player with a harder frame