Donic Persson Powerplay Senso - V1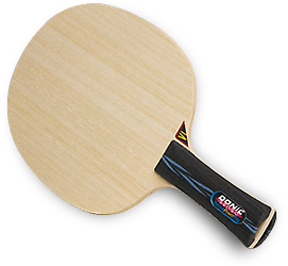 See also: Donic Persson Powerplay Senso - V2
Fast 7-ply offensive blade made in Sweden that can be controlled even with normal training thanks to a special thin layer of foil.
The ex World Champion and 1996 European Champion has thoroughly tested the prototypes. After regular start up production Joergen began to play with the SENSO blade. We quote Joergen Persson: " I always feel the ball, no matter if I hit it slowly or fast. SENSO gives you the absolute touch. The SENSO technology makes things much easier, since you get a prompt feedback from the ball."Available only in the AN or FL grip.
The blade is available in two versions - V1 and V2. V1 offers optimum speed and V2 offers optimum control. The difference is in the position of the hollow space inside the handle.

Speed: 88
Control: 76
Weight: 85
Ply: 7


Additional Information
Blade FAQ and Guide - what you need to know when buying a blade.
Compare Blades - side-by-side blade rating comparison.
Blade Weight Variations - Actual blade weight may vary by up to 8g.
Blade Sealing/Varnish
You may
add blade sealing
for this blade. Sealing prevents wood splintering.
Best Price Guarantee We guarantee to have the lowest prices (shipping included) in the US. Please tell us if you find a lower price.
Reviews of Donic Persson Powerplay Senso - V1 (5)
External Review on March 18, 2010
| | |
| --- | --- |
| | External Review on January 28, 2010 |
This blade has great control. Even though I had to give up some speed (used 729 Bomb before), I was able to stay in more points longer, winning more consistently. After my first practice, it appears that I lost some kill shot capability, but had better overall consistency. The blade has a nice feedback and a bigger sweet spot than Bomb. I will have to play a few more times to give a better review.

I never really got to love this blade. Partially because of the handle shape. The oval shape on the flared handle with the wide base never let it 'sit' properly in my hand.
Also, I never settled in in my playing style with this blade. I try to loop from both wings seeking the offensive whenever possible. I always had issues with the opening loop against underspin. I used the same rubbers that I had on 729 Bomb, where I had no problems with the opening loops. I now switched to the Donic Dicon for what I hope is a better balance between speed and feeling...although I will keep looking for a blade with the ultimate feeling and good speed.
---
External Review on October 7, 2009
| | |
| --- | --- |
| | External Review on September 15, 2009 |
This is not a blade for beginners, and SENSO V1 can cause a sport injuries to your, like Wrist sprain
---
| | |
| --- | --- |
| | External Review on January 7, 2009 |
the donic persson powerplay senso is a good step up after playing with an allround frame.
It is pretty fast but no speed demon, it has enough control for touch shots and is good for both spinning and hitting.
with a fast offensive rubber you can play agressively with it and with an alround rubber on it you can play more controlled.
It is flexible so looping with it is no problem. overall it a good and well balanced blade for different types of play,