Donic Cayman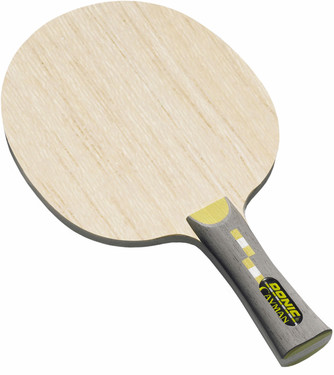 Free US Shipping
All-round with good feel DONIC's latest creation is the CAYMAN, an extremely light and relatively fast all round blade with high rigidity and excellent control. This blade is especially suitable for players using pimples. The hard outer plies are particularly effective when using long or short pimples. Blocking and counter attacking become more deadly and more troublesome, especially for long pimpled players. Amazing control, with no lessening of speed, permits the player using this DONIC blade to attack and defend and enjoy his game. This does not only apply to players using pimples.
Speed:92
Control:80
Weight: 63 g
Ply:5
Blade thickness:9 mm
Blade width:152 mm
Height:160 mm
---
Customers who purchased Donic Cayman also purchased:
Additional Information
Blade FAQ and Guide - what you need to know when buying a blade.
Compare Blades - side-by-side blade rating comparison.
Blade Weight Variations - Actual blade weight may vary by up to 8g.
Blade Sealing/Varnish
You may
add blade sealing
for this blade. Sealing prevents wood splintering.
Best Price Guarantee We guarantee to have the lowest prices (shipping included) in the US. Please tell us if you find a lower price.
Reviews of Donic Cayman (8)
External Review

for

Donic Cayman

on March 29, 2014
I've been using this blade for years with 1.5 Donic Akkadi Taichi on the forehand and 1.2 Piranjatec on the backhand. An excellent combination on this very light blade. Flat hiting and and blocking are excellent on this blade but I can't comment on looping or chopping as I don't do these shots. The blade being balsa is very light and pretty fragile so you have to be very careful with it at all times. Control can vary with some shots because of the lightness of the blade so I'm thinking of upgrading the Akkadi Taichi from 1.5 to 1.8 mm. I don't think it will upset the balance.
---
External Review

for

Donic Cayman

on September 27, 2013
Good light blade. Due to the hardness of the outer layers, it has almost no feel at all. Better paired with soft sponge rubber. I had hard sponge rubber on it and keeping the ball under control was challenging.
---
External Review

for

Donic Cayman

on September 12, 2012
Used this with Donic Vario Soft & Mach 1 rubber, this blade is faster than advertised with great control. This blade can loop well with soft rubber and counters fast. Worth a try as backup blade.
---
External Review

for

Donic Cayman

on September 4, 2012
Got this as my first "real" blade. Its very delicate since the inside is made out of cork and uber light. No vibration, very soft feel. I don't like this blade since I don't feel that i hit the sweet spot often and its just way too soft for a counter hitter like me.

Speed: ALL
Control: high
---
External Review

for

Donic Cayman

on June 3, 2012
Stiff light blade, the best blade I tried for pimple. Good control, ALL+ speed, good hiting but not really good for looping, it's better to use soft rubber
---
External Review

for

Donic Cayman

on October 6, 2011
Super light, stiff allrounder, as proclaimed works well with long pimples !
---
External Review

for

Donic Cayman

on August 16, 2011
good stuff! this is how the blade plays:

blocking/flat hitting: this thing blocks and flat hits extremely well - especially when near the table. Many times it'll surprise the opponent because the ball gets returned before they can recover from their stroke

looping: I found it a bit tough to produce some spinny loops. So far I've been experimenting with a bunch of different rubbers and it seems a medium sponge has been working the best

chopping: not the greatest for chopping because the blade lacks feel. Like for looping, medium rubbers seemed to work best for me.

A very good blade for the full-offensive player, but a finesse-oriented player should look elsewhere.
---