Donic Persson Carbotec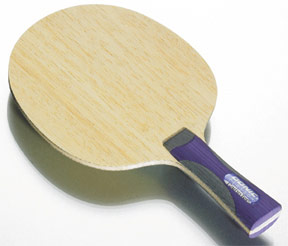 Free US Shipping
DONIC Persson Carbotec The DONIC Carbotec blade has been developed in preparation for the ban on speed glues expressly for the Swedish holder of five World Championship titles. Because of its extreme speed and stiffness, this new type of carbon-glass blade is the answer for players who want to stop using speed glue, but still want to achieve optimum acceleration.
The carbon-glass-fiber blade is more elastic than ordinary carbon-fiber blades.
Despite the high stiffness, it offers superb feel. When combined with DONIC Formula rubber, the blade produces incomparable speed and spin without loss of control.
Speed:98
Control:72
Weight:90
Ply: 7
---
Customers who purchased Donic Persson Carbotec also purchased:
Blade FAQ and Guide - what you need to know when buying a blade.
Compare Blades - blade rating comparison chart.
Blade Weight Variations - Actual blade weight may vary by up to 8g.
Best Price Guarantee
We guarantee to have the lowest prices (shipping included) in the US. Please tell us if you see a lower price.
Reviews of Donic Persson Carbotec (8)
Review by

mattyd1977

(Verified Customer) for

Donic Persson Carbotec

on December 10, 2015
John Wetzler plays with this blade, so I gave it a try. It was too stiff for me and it's purple.
---
External Review
for
Donic Persson Carbotec
on October 4, 2011
i did my first impresion wd this blade w/ possitive ang negative side but after playing dis afternoon i can now agree wd the comments of tornadoinbed it did good realy good w/ soft ruber oltho i uses medium soft jo platin and 729 cream i olso feel the efectivness of this consistent weapon but ofcors,same as wat he said dont forget to practice in order to mentain the right stroke.for me its a complete blade wd a ryt combi of rubers,a lifetime blade for my style of play thanks
---
External Review
for
Donic Persson Carbotec
on September 13, 2011
a bought the persson carbotech 1 year ago but im not to open playing with it because of hectic sked.at first i found it not satisfying using it with coppa max red and sonnex x40 max black because it is alittle bit heavy.but when i replace the two with red 729 cream 2.0 and black jo platin 2.1 i was surprise with its performance it became lighter and the speed in my forehand with platin do well both in loop and topspin as well as blocking and lobbing far to the table my backhand with 729 cream is accurate also only when hitting the ball with right stroke ofcurse mistakes is always there if you dont practice i can say it because im not that good but fellas believe me with my combination i garanty it simply the best i will soon replace the 729 with platin which i belive it will turn it to more competitive weapon. thanks
---
External Review
for
Donic Persson Carbotec
on February 25, 2011
External Review

for

Donic Persson Carbotec

on February 24, 2011
External Review
for
Donic Persson Carbotec
on February 12, 2011
External Review

for

Donic Persson Carbotec

on February 11, 2011
I just bought this blade a week ago and it has a very good control w/ soft rubber. The blade is fast and it is very good in on the rise and accurate placement. Using Sonex JP Gold both side w/ this blade will make you enjoy playing because of your accurate shot, but don't forget to practice "-)
---