Donic Crisan Titanium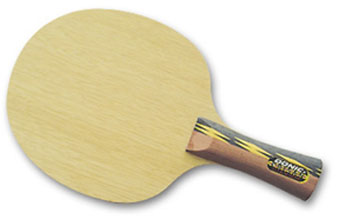 $49
.95
$85.95
Save $36.00 (42%)
Since the introduction of the 40 mm ball, players of all abilities favors quick, stiffer blades in combination with relatively soft, yet dynamic, rubbers. One of the most prominent players in this category is the world no. 10 (at 1/2006) Adrian Crisan.
The pleasant top player from TTF Liebherr Ochsenhausen, winner of many German Championships and Cups, was the most successful player in the Team Event of the last European Championships in Denmark. He was the only unbeaten player! The secret of modern blade manufacture undoubtedly lies in producing a quick, stiff blade which can be easily controlled. Highly suitable for this purpose is the High-Tech product Titanium in combination with the outer hard Limba and inner softer Ayous plies.
The DONIC CRISAN TITANIUM 7-ply blade was specially produced for the 25 year old world class player, giving him super control and speed with a stiff blade.

Speed: 91
Control: 78
Weight 85g
Ply: 5+2
Blade FAQ and Guide - what you need to know when buying a blade.
Compare Blades - blade rating comparison chart.
Blade Weight Variations - Actual blade weight may vary by up to 8g.
Blade Sealing/Varnish
You may
add blade sealing
for this blade. Sealing prevents wood splintering.
Best Price Guarantee
We guarantee to have the lowest prices (shipping included) in the US. Please tell us if you see a lower price.
Reviews of Donic Crisan Titanium (2)
Review by

aeroelastic_hyperma

(Verified Customer) for

Donic Crisan Titanium

on December 6, 2013
The Donic Crisan Titanium (Flare handle) racket blade is a close cousin to the long discontinued Schildkrot Titanium racket blade (Made in Germany in A.D. 1995). The actual titanium alloy grid is embedded into the natural wood plies giving a solid and resilient feel upon the ball impact. This product is deployed with great success in Extreme Table Tennis marathon tournaments. With the blade's lighter weight, stable and forgiving ball control because of the construction the best application is generating "Compound Spins" and "Counter Spins". A fine example of these types of spins are the [Corkscrew Spin Suites] used by Extreme Table Tennis (70 plus hours non-stop) players. These veteran pilots seen performing a Penholder Grip wrist manipulation with a Shakehand Grip blade demonstrated some very unique ways to kill all two dimensional spins.
The corkscrew spin is the only three-dimensional spin in the realm of Table Tennis.
Using soft and spiny pips out rubber sheets this racket blade is able (using the Chinese Penholder Grip method) to manipulate the ball rotation over the entire rubber surface causes the ball to be pushed about like a hover-craft! The ball's resultant trajectory is not predictable and the spin is not visible to the Top Spin player (because Shakehand Grip Players most of time has incoming ball covered by the racket blade in response). Now when the user try to perform the same action but with a Shakehand Grip, the ball loses control- because the wrist is rigid. Chinese Penholder Grip players have a very large repertoire of spins (83 and still counting), "skeeting", and "Aeroelastic Braking" which cannot be countered except with another three-dimensional spin (three dimensional spins are possible only with the Chinese Penholder grip and with a wrist rotation of 270 to 310 degree movement- very risky for Shakehand Grip players.) This product is an expense must have for the player with aerodynamic understanding and fighter pilot skills to manipulate the ball (yaw, pitch, row, and wobbly goblin) into a vibrating guided trajectory. With a Penholder Grip the player is able to return a Super Heavy Top Spin ball with a "Low Speed Yo-Yo", "High Speed Yo-Yo", "Sissors", "Luftberry Circle", or an "Inverse Immelmann" that seemingly leaves the table and then "Sidewinder" back to the opponent's side of table's white lines. This is what makes the Corkscrew Spins rarely seen and untouchable.
This product is a Stradivarius Violin in the hands of a "Counter-Offensive" Defense Player.
The Crisan Titanium blade is a rare masterpiece of sound engineering with no vices!
When the player tempers his actions with fluid movements- the blade is very forgiving.
Have only loss one game out of 314 games (300 points each game) with this racket blade- this is Extreme Table Tennis! The lighter weight contributes to this player comfort of more than 40 hours of non stop play and no blisters!

Shall purchase another three of this product as soon as can afford them.
These fighter pilots all want to "borrow" my Crisan Titanium racket blade.
---
External Review

for

Donic Crisan Titanium

on December 11, 2010
fast blade for shure
personally I thought control was not so good, but I've tried only with fast rubber like CoppaX2 max in both side (and maybe it dipends from me); in the last time I equipped CoppaX3 in the forehand (in the forehand?...yes) living the X2 in the backhand, and I had a betther feeling;
overall this is a nice blade -__^