Donic Carbo System Offensive Minus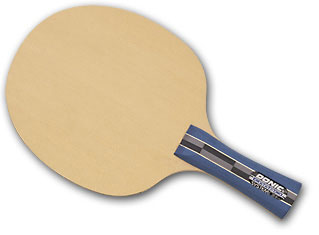 $56
.95
$59.95
Save $3.00 (5%)
Free US Shipping
This high quality Hinoki blade, with cleverly constructed plies in combination with Carbon/Kevlar fibres, guarantees the ultimate in playing quality. Despite its firmness and high speed DONIC CARBO SYSTEM OFF- blade offers perfect control. The blade will delight every attacker who is technically minded!
5-ply
1 ply: Hinoki
2 ply: Carbon/Kevlar
Centre ply: Kiri/Hinoki/Hinoki/Hinoki
DONIC CARBO SYSTEM
CARBON INSIDE
• TUNED TO PERFECTION -
Carbon blades have even conquered the European table tennis market. The relatively large sweet spot (contact point of the ball), improved stability, higher speed and lighter weight speak for themselves.
DONIC Carbo System Technology
A new era has been achieved by DONIC blade specialists with the technology of the DONIC CARBO SYSTEM. The idea was to combine high quality rare wood plies with carbon fibre. This resulted in three unique high-tech products. The outer appearance of the blade, with its attractive handle design and second lens, is typical of the excellent characteristics of DONIC's CARBO SYSTEM.

Speed: 96
Control: 73
Weight 85g
Ply: 5
---
Customers who purchased Donic Carbo System Offensive Minus also purchased:
Additional Information
Blade FAQ and Guide - what you need to know when buying a blade.
Compare Blades - blade rating comparison chart.
Blade Weight Variations - Actual blade weight may vary by up to 8g.
Blade Sealing/Varnish
You may
add blade sealing
for this blade. Sealing prevents wood splintering.
Best Price Guarantee We guarantee to have the lowest prices (shipping included) in the US. Please tell us if you find a lower price.
Reviews of Donic Carbo System Offensive Minus (3)
Review by

tona

(Verified Customer) for

Donic Carbo System Offensive Minus

on September 22, 2013
Its the blade I use now. Perfect combination of hardness, control and elasticity. Medium feeling blade with an obvious carbon sensation. Excellent control. Very light weight. Compact head size. Great for blocking and topspin. Blocking and backhand has improved with the introduction of this blade. Suits well with hard or soft rubbers. Best blade Ive used to date. Great handle design.
Previously used blades:
Donic Carbo System Off Minus
Donic Carbo System Off
Schlager Carbon
Timo Boll ZLF
Kong Linghui Euro
Donic Persson Power Carbon
Power Drive
---
External Review

for

Donic Carbo System Offensive Minus

on December 13, 2010
coming from a Schlager Carbon, this pretty much blew my mind. doesn't give up whole lot of speed, but the of touch in all aspects of the game is ridiculous! that alone is worth it completely. it can more than hold its own close up to the table and if your form is decent enough, your distance smashes could knock a coin off the table. everything inbetween is just as amazing.

it's not without it's downfalls, however. it's not made in Sweden, so the fit and finish is lacking, especially in the carbon layer. there were little tufts of fibres sticking out everywhere, which is fine around the head (especially so if you like edge tape) but annoyed the hell out of me because it was basically leaving little slivers of carbon fibres in my skin. a couple light scrapes with sandpaper did the trick however.

my second issue is the balance. it's fairly average in weight (~85g) but coming from a ~95g+ SC, I was expecting a bit more weight in the handle (the whole ordeal not being made better by the need to take weight AWAY from the handle with sandpaper)

my third complaint: Donic doesn't make it anymore. *sadface*

if you can still find one, buy it! be forewarned of it's sub-par fit and finish, however. Donic seems to have replaced it with the Li Ping Kitex (which has me very interested, if I wanted to replace this blade)
---
External Review

for

Donic Carbo System Offensive Minus

on March 28, 2010
The best blade i've ever encountered. Tried over 15 blades from almost every manufacturer there is, and i once i found donic carbo system off-, i knew i had found the perfect blade. It's pretty light(around 80 grams), and most of the weight is on the handle, therefore it never feels heavy, not even with heavy rubbers. Another advantage is its softness. I'd say it.s medium soft, and therefore can be played with any rubber type, even hard rubbers feel good on this blade. The only downside is that it has somewhat of a medium-low throw. Too bad they've discontinued it recently...