Yasaka V Stage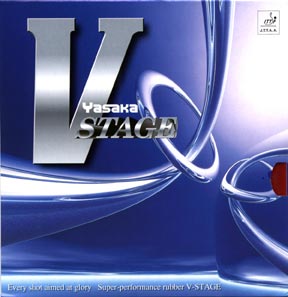 Free US Shipping
Every shot aimed at Glory, Super Performance rubber - Yasaka V Stage
For players searching for powerful spin and speed, V-Stage takes the lead. V-Stage is produced by simultanously vulcanising high friction coefficient rubber to improve spring and high elasticity. This product stretches the natural rubber to their very limits. Compared to existing rubber sheets it demonstrates a 13% improvement in spin and 18% in speed.
Speed: 98
Spin: 95
Control: 81
---
Customers who purchased Yasaka V Stage also purchased:
Additional Information
Rubber FAQ and Guide - what you need to know when buying rubber sheets.
Compare rubber ratings - compare ratings to other sheets.
Best Price Guarantee We guarantee to have the lowest prices (shipping included) in the US. Please tell us if you find a lower price.
Reviews of Yasaka V Stage (13)
View all 13 Reviews
Review by

bandit

(Verified Customer) for

Yasaka V Stage

on August 20, 2016
An excellent upgrade of the Mark V.
A very spinny rubber with great speed but surprisingly good control.
---
External Review

for

Yasaka V Stage

on March 18, 2014
it's a nice offensive rubber,spinny,great quality.lighter than most tensors,no catapult effect
needs very good technique , low throw angle.harder feel than mark v
---
External Review

for

Yasaka V Stage

on December 26, 2013
Una muy buena esponja, para fh es muy confiable realizar el topspin con un movimiento muy bien controlado es totalmente recomendado, una buena esponja de yasaka.
---
External Review

for

Yasaka V Stage

on June 18, 2013
Good rubber from Yasaka, feels like an upgrade as MarkV. Same charasteristics, but slightly better in every aspects.
---
External Review

for

Yasaka V Stage

on November 4, 2010
A great all around rubber, incredibly light. Amazing topspin and backspin. But may suffer from speed against the likes of fast bats, such as coppa gold. I would reccomend this rubber to everybody, its the best rubber i have ever had!
---
External Review

for

Yasaka V Stage

on August 18, 2010
Very fast rubber with low throw angle. If you got used to the spring sponges or tensors, u might find it difficult as this does not have the catapult effect. But that does not mean its slow. Faster than most tensors and power sponge rubbers. great for loop drive, loop or chop. very hard for the opponent to block it and the smashes are the best. though only very slightly grippy, i fu can work through the sponge u can generate enormous amounts of spin like tacky rubbers. One of the best out there, but needs an experienced person to control.
---
External Review

for

Yasaka V Stage

on August 7, 2010
Me Again. Have been using this rubber for about 1 month now on my BH. I did put the V Stage (max) on my BFY ZLC, replacing the Tackifire C...and WOW I'm lovin this. Outstanding for close blocks and topspin. Great for medium away from the table hitting. Had to adjust throw angle as I was over hitting (a good thing, better than them going into the net!). Anyway great spin, speed and surprisingly more control than I though I would get. A great rubber, certainly for my BH.
---
External Review

for

Yasaka V Stage

on July 7, 2010
Bought a Timo Boll ZLC Blade and put BFY Tenergy 05 on FH and BFY Tackifire C on BH. Found the Tackfire C too slow - although a great quality rubber with excellent chop/push control. My other bat is a Stiga CarboKev with Yasaka Rakza 7 on FH and V-Stage on BH. Both great rubbers however I'm going to swap the Tackifire C on the ZLC with the V-Stage. In summary the Tenergy 05 is faster than Rakza 7 (and offers only slightly more speed and feel) and the V-Stage is certainly faster than Tackfire C (which I want for my BH).
---
External Review

for

Yasaka V Stage

on May 29, 2010
Very grippy. Not tacky. Die hard Mark V users who did not speedglue may find this to be a worthwhile upgrade, provided they have very good strokes. Unlike Mark V, which is fairly forgiving, considering it's spin potential, V Stage does not allow as much of a margin for error. Service is quite good, and the rubber has a bit more power over the table and at mid distance, but you have to "dig in" to maintain control. Otherwise the bounciness of this rubber can wreak havoc with pushing, blocks and loops. Players used to ESN Tensors may dislike this rubber, as it requires harder strokes to generate spin. Similar somewhat to Mendo MP.
---
Review by

richardcranian

for

Yasaka V Stage

on April 28, 2010
im am using on my forehand with yasaka extra 3d blade and mark v on backhand. it is an excellent rubber in my opinion, great speed and spin.
View all 13 Reviews