Yasaka Phantom 0012 Infinity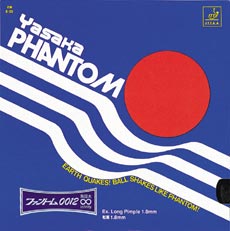 PHANTOM AND 0012 no sponge
More of Phantom phenomena based on our preceding Yasaka Phantom series rubber. The all new and legal 0011 and 0012 assure you of further improvement in spin and speed. Also, more variation, better control, stable attack
power and more knuckle ball effect.
Speed 40
Spin 43
Control 51
Yasaka rubbers are steeped in history dating back all the way to 1926. The flagship rubber for Yasaka has been the Mark V. Mark V burst onto the table tennis world stage in the 1970 and 1971 World Championships taking home victory in both competitions. The Mark V is still going strong today and other versions of the rubber have been produced through the following decades.
More recently Yasaka has developed Rakza rubbers which have taken innovation to another level. The shape of the pimples provides a strong balance between spin and speed. Rakza rubbers use Hybrid Energy to provide synergy between top sheet and sponge providing great elasticity for power and control.
Yasaka has many more rubbers in their product line as well. Yasaka rubbers are used by top professionals as well as players of all levels. Be like 2019 World Championship Silver Medalist Matias Falck and choose Yasaka rubbers.
---
Rubber FAQ and Guide - what you need to know when buying rubber sheets.
Compare rubber ratings - compare ratings to other sheets.
Best Price Guarantee
We guarantee to have the lowest prices (shipping included) in the US. Please tell us if you see a lower price.
Reviews of Yasaka Phantom 0012 Infinity (12)
View all 12 reviews
Took me only 1 session to trust 0012 completly.Very good control for a LP.Compares well with Galaxy Neptune.I use both of them in competions.Glued on Stiga Hybrid NCT 729 Aurora+Phantom 0012 OX.
---
O like these rubber very much, i think is easy to manipulate effects, very good reversal, easy
To play, the sensitive for the spin put it in serve is easy to, responde only ox, i have it in red
---
(Available only without sponge)

The perfect allround LP, similar to Joola Octopus, with more deception. Phantom 0012 is one of the best choice for defensive players because of its amazing control and reversal. Chopping is both easy and efficient. Even blocks are easy to do compared to Feints or Curls or even Octopus.

Close to the table game is very easy too, with pretty good deceptive effects : opponents very often misread the amount of spin, causing many "free points". I think Phatom 0012 is just grippy enough to generate its own spin, but in the same time this LP is not too sensitive to incoming spin (especially backspin). This grip allows very tricky serve returns - even against fast serves with no spin!

I'd say that Phantom 0012 is a "easy-to-play" version of Curl P1-R, with same properties and same efficiency... With better control for non-professionnal players!

Definitely one of my favorite LP.
View all 12 reviews

Yasaka Rubber

Table Tennis Rubber
---
All items are in stock unless otherwise stated. All prices are in USD.
If you need help or advice please contact us. We are happy to help!