Yasaka Phantom 0011 Infinity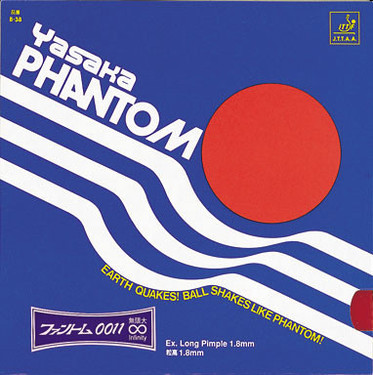 $20
.95
$28.15
Save $7.20 (26%)
PHANTOM 0011
More of Phantom phenomena based on our preceding Yasaka Phantom series rubber. The all new and legal 0011 and 0012 assure you of further improvement in spin and speed. Also, more variation, better control, stable attack
power and more knuckle ball effect.
Speed 43
Spin 43
Control 58
---
Customers who purchased Yasaka Phantom 0011 Infinity also purchased:
Yasaka rubbers are steeped in history dating back all the way to 1926. The flagship rubber for Yasaka has been the Mark V. Mark V burst onto the table tennis world stage in the 1970 and 1971 World Championships taking home victory in both competitions. The Mark V is still going strong today and other versions of the rubber have been produced through the following decades.
More recently Yasaka has developed Rakza rubbers which have taken innovation to another level. The shape of the pimples provides a strong balance between spin and speed. Rakza rubbers use Hybrid Energy to provide synergy between top sheet and sponge providing great elasticity for power and control.
Yasaka has many more rubbers in their product line as well. Yasaka rubbers are used by top professionals as well as players of all levels. Be like 2019 World Championship Silver Medalist Matias Falck and choose Yasaka rubbers.
---
Rubber FAQ and Guide - what you need to know when buying rubber sheets.
Compare rubber ratings - compare ratings to other sheets.
Best Price Guarantee
We guarantee to have the lowest prices (shipping included) in the US. Please tell us if you see a lower price.
Reviews of Yasaka Phantom 0011 Infinity (5)
External Review

for

Yasaka Phantom 0011 Infinity

on June 12, 2017
I bought this rubber because I read some good ratings and reviews. I now have it one week and If to tell the truth I dont see the good ratings. This is not the rubber that have also good spin and good deception and good reversal, I think this is imposible for a rubber today..So what it is ? To my eyes this is a rubber like TSP P4 or FL3, it can give some spin, but has no good deception or reversal. Before that I played for 1 year with grass dtecs and I know whats the good reversal is...no way that rubber to has reversal 9, its 7 the most. What are the advantages of that rubber? Very good control, you can hit with it because the pips are not so soft, it acts like medium pip, but that also is a disavantage because you have no "wooble" balls not something weird in the game. A good rubber from Yasaka but for players who chop far or near the table, not on the table (chopblocks easy but not danger if you know what I mean).
---
External Review

for

Yasaka Phantom 0011 Infinity

on July 12, 2011
I recently bought this rubbr n for the first week I couldnt evn push proprly....
But when we prctc n gain cntrl on thz magicl rubbr....we cld do wonders....
We cam.even.hit top spins n.flat countr shots.....
The blocks really decive.the opponent if done prprly....
So.i recmnd thz rubbr to all ambisious defencers
---
External Review

for

Yasaka Phantom 0011 Infinity

on April 11, 2011
the pimples seem to bend upon ball contact so it is not the most durable long-pips around. Quality of play is good though, and very excellent for service return as the opponent's spin goes back (is retained). for a long-pips rubber, you can actually loop with it and it wil produce good spin from medium distance or close to the table. it is medium-priced for a long-pips rubber and you get good value for money.
---
Review by

suryarao

for

Yasaka Phantom 0011 Infinity

on October 11, 2009
I am plying table tennis since 15 years. My combination rubbers are one side(forehand) yasakha Mark V and the other side (back hand) Long pimple rubber (butterfly C-7). I would like to buy a long pipmle rubber which has the same effect like my old rubber (butterfly c-7) Pl advise me which pimple rubber I have to buy which is suitable to me.
---
External Review

for

Yasaka Phantom 0011 Infinity

on March 28, 2009
The phantom infinity 0011 long pips ruber by yasaka is an EXTREMELY tricky rubber to both play with and play against. It has a 1.0 mm sponge, which means that there really is no momentum on the ball. Unlike other long pips, this one instead of reversing the spin, it kind of neutralizes the ball, also making it drop really short. You can tell when you hit the ball the ball will almost bounce straight down. The control also is amazing, you can feel the ball dig right into the paddle, you have virtually full control over the spin and speed and placement of the ball (by spin i mean you can cancel it). It is a great pips rubber for tricky players.