Yasaka X-Tend HS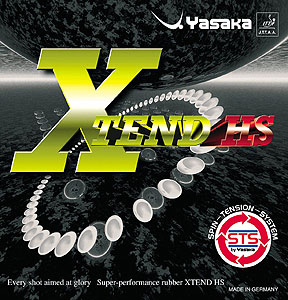 Powerful New Generation of STS developed to comply with new Speed glue rules.
STS is well known for giving 2/3 of tension energy to spin and 1/3 to speed.
Xtend HS has been re-designed to deliver even greater power.
To comply with the ban on speed gluing, Yasaka has developed a powerful new tension rubber.
The top sheet and sponge have been completely re-designed by ground breaking new technology.
It delivers high-power speed with easy handling.
Please do not apply speed glue, as it will destroy the rubber.
Speed: 92
Spin: 98
Control: 76
---
Customers who purchased Yasaka X-Tend HS also purchased:
Yasaka rubbers are steeped in history dating back all the way to 1926. The flagship rubber for Yasaka has been the Mark V. Mark V burst onto the table tennis world stage in the 1970 and 1971 World Championships taking home victory in both competitions. The Mark V is still going strong today and other versions of the rubber have been produced through the following decades.
More recently Yasaka has developed Rakza rubbers which have taken innovation to another level. The shape of the pimples provides a strong balance between spin and speed. Rakza rubbers use Hybrid Energy to provide synergy between top sheet and sponge providing great elasticity for power and control.
Yasaka has many more rubbers in their product line as well. Yasaka rubbers are used by top professionals as well as players of all levels. Be like 2019 World Championship Silver Medalist Matias Falck and choose Yasaka rubbers.
---
Rubber FAQ and Guide - what you need to know when buying rubber sheets.
Compare rubber ratings - compare ratings to other sheets.
Best Price Guarantee
We guarantee to have the lowest prices (shipping included) in the US. Please tell us if you see a lower price.
Reviews of Yasaka X-Tend HS (12)
View all 12 reviews
Speed is fast, spin is poor. Control is average. Sponge feels soft, and durability is not good. Looping is great on a high-flex blade. Really fast on a stiff off+ rated blade. But spin on both blades is the same.
---
Just replaced Yasaka Fusion with Xtend HS on my backhand. Xtend is noticeably faster, which is what I was after. Blocks ok, although can react to spin and speed, so is more like an attacking rubber when close. Step back one step, and you have really good control. Has good hitting power, and is pretty good at picking the ball up for a backhand topspin, including soft loops. The advertising talks about a special sound it makes, and they are not exaggerating. It actually does make a very satisfying "wok!" sound when you give it some force. This was first day, so perhaps it will change over time, but so far, it was been a nice step up from the defensive style of Fusion, into a more attacking, fun rubber.
---
Low throw angle and good rebound makes this a true close to the table rubber. Makes a slap sound to a flat hit but needs real work away from the table.
Counter hitting needs control but counter looping and early third ball attack is a dream.
Ball loads with top spin but again away from the table needs too much work.
If you prefer to stay in this is a treat.
View all 12 reviews

Yasaka Rubber

Table Tennis Rubber
---
All items are in stock unless otherwise stated. All prices are in USD.
If you need help or advice please contact us. We are happy to help!