Yasaka Original Extra XHG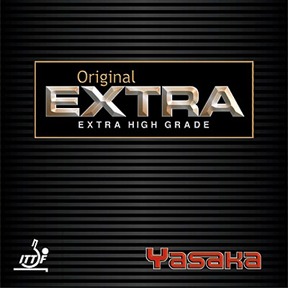 $18
.74
$21.95
Save $3.21 (15%)
Original XHG
ORIGINAL EXTRA HG is suitable for modern methods of playing, enabling players to vary their attack and defence as required with a great variety of spin and power. ORIGINAL XHG offers a very good value for the money.
Speed: 79
Spin: 78
Control: 83
---
Customers who purchased Yasaka Original Extra XHG also purchased:
Yasaka rubbers are steeped in history dating back all the way to 1926. The flagship rubber for Yasaka has been the Mark V. Mark V burst onto the table tennis world stage in the 1970 and 1971 World Championships taking home victory in both competitions. The Mark V is still going strong today and other versions of the rubber have been produced through the following decades.
More recently Yasaka has developed Rakza rubbers which have taken innovation to another level. The shape of the pimples provides a strong balance between spin and speed. Rakza rubbers use Hybrid Energy to provide synergy between top sheet and sponge providing great elasticity for power and control.
Yasaka has many more rubbers in their product line as well. Yasaka rubbers are used by top professionals as well as players of all levels. Be like 2019 World Championship Silver Medalist Matias Falck and choose Yasaka rubbers.
---
Rubber FAQ and Guide - what you need to know when buying rubber sheets.
Compare rubber ratings - compare ratings to other sheets.
Best Price Guarantee
We guarantee to have the lowest prices (shipping included) in the US. Please tell us if you see a lower price.
Reviews of Yasaka Original Extra XHG (6)
External Review

for

Yasaka Original Extra XHG

on May 10, 2020
This is supposed to be the first rubber after 5star premade rackets. Every brand has one. But this is the best i have tried.
---
Review by

zanelightning

(Verified Customer) for

Yasaka Original Extra XHG

on January 1, 2017
Good chopping rubber and has a good loop from grippy topsheet, if they put the topsheet on a better sponge, this rubber would be magnificent but I boosted it and it works well. Better for faster blades or defensive do. It go in between
---
External Review

for

Yasaka Original Extra XHG

on October 22, 2016
A good bat for learning/mastering basic strokes. The spin is decent, the control is great. It won't disappoint you, especially with the price
---
External Review

for

Yasaka Original Extra XHG

on August 10, 2015
Good for learning some technique. I'm using it on my BH to learn the RPB, and it generates good spin and speed, with the right movement.
---
External Review

for

Yasaka Original Extra XHG

on June 20, 2013