Yasaka Original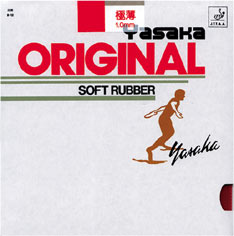 Yasaka Original
The soft allround control rubber which was one of the first soft rubber since 1953. It started the soft rubber revolution in table tennis. The most reliable and finest quality in its class.
Speed: 72
Spin: 72
Control: 88
1.0 mm only

---
Customers who purchased Yasaka Original also purchased:
Additional Information
Rubber FAQ and Guide - what you need to know when buying rubber sheets.
Compare rubber ratings - compare ratings to other sheets.
Best Price Guarantee We guarantee to have the lowest prices (shipping included) in the US. Please tell us if you to lower price.
Reviews of Yasaka Original (3)
External Review

for

Yasaka Original

on February 6, 2011
You can do anything with this rubber, but at a subdued level since it only comes in 1.0mm. Touch and control is fantastic. Great for defensive player.
---
External Review
for
Yasaka Original
on January 2, 2011
This is a good control rubber. With the right type of blade, can block the hardest ripped shots with good touch and placement. Drives and loops are consistent, although notably slower than a rubber like Mark V or Sriver. This rubber is a good choice if you play close to the table or for backhand only. The shots lose some power when you step back from the table (although most of this is probably due to the Gambler Kevlar Oversize blade), but the consistency and ease of placement from mid-distance is good. I have not been as consistent at mid-distance using the 729 rubbers on the same blade.
---
External Review
for
Yasaka Original
on January 2, 2011
I bought this to replace the dead inverted rubber that came with a pre-assembled racket from Dick's Sporting Goods. Big difference! I love this rubber, the feel is good and can mount a pretty decent attack with good control. It's best for flat hits and blocks, good for return of serve. I can spin with it, but not as well as a friend who uses Sriver. I think it's great for beginners that need to develop their strokes before moving on to the faster and spinnier rubbers.