Yasaka New Era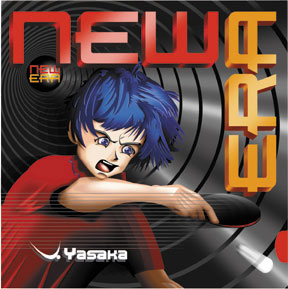 Sorry, this item is currently out of stock. You may ask us to send you a restocking notification when this item is back.
With NEW ERA there are new possibilities for the offensive table tennis player, who wants to make counter attacks. With a new technology to combine the sponge and top sheet, High Tension technology, NEW ERA is very much suitable for top spin attacks against the opponents top spin.
During the development and testing many players asked us to introduce NEW ERA as soon as possible, as it gives a new dimension to the game.
Speed: 92
Spin: 96
Control: 72

Additional Information
Yasaka rubbers are steeped in history dating back all the way to 1926. The flagship rubber for Yasaka has been the Mark V. Mark V burst onto the table tennis world stage in the 1970 and 1971 World Championships taking home victory in both competitions. The Mark V is still going strong today and other versions of the rubber have been produced through the following decades.
More recently Yasaka has developed Rakza rubbers which have taken innovation to another level. The shape of the pimples provides a strong balance between spin and speed. Rakza rubbers use Hybrid Energy to provide synergy between top sheet and sponge providing great elasticity for power and control.
Yasaka has many more rubbers in their product line as well. Yasaka rubbers are used by top professionals as well as players of all levels. Be like 2019 World Championship Silver Medalist Matias Falck and choose Yasaka rubbers.
---
Rubber FAQ and Guide - what you need to know when buying rubber sheets.
Compare rubber ratings - compare ratings to other sheets.
Best Price Guarantee We guarantee to have the lowest prices (shipping included) in the US. Please tell us if you see a lower price.
Reviews of Yasaka New Era (3)
External Review

for

Yasaka New Era

on November 1, 2009
External Review
for
Yasaka New Era
on October 27, 2009
I'm a C Pen player, though by no means an advanced offensive player. For what it's worth I find I get great spin, good control, and more than adequate speed using New Era on my forehand on a Donic Appelgren Allplay blade (a slowish allround blade).
However, there's no trace of New Eras in Japan now, and apparently Yasaka don't make it any more, so I suspect that many, like me, will soon be looking for a replacement.
---
External Review
for
Yasaka New Era
on August 2, 2009
New Era is a very good rubber for an advanced offensive player.
I hgihly recommend it!
There is also only ONE version of Yasaka New Era, so the green, pink, and other covers with control, speed , and spin Yasaka New Era are all FAKE! The real New Era should have a cartoon like cover.