Yasaka New Era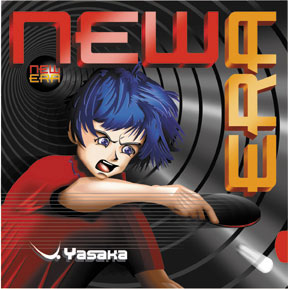 With NEW ERA there are new possibilities for the offensive table tennis player, who wants to make counter attacks. With a new technology to combine the sponge and top sheet, High Tension technology, NEW ERA is very much suitable for top spin attacks against the opponents top spin.
During the development and testing many players asked us to introduce NEW ERA as soon as possible, as it gives a new dimension to the game.
Speed: 92
Spin: 96
Control: 72

---
Customers who purchased Yasaka New Era also purchased:
Additional Information
Rubber FAQ and Guide - what you need to know when buying rubber sheets.
Compare rubber ratings - compare ratings to other sheets.
Best Price Guarantee We guarantee to have the lowest prices (shipping included) in the US. Please tell us if you to lower price.
Reviews of Yasaka New Era (3)
External Review

for

Yasaka New Era

on November 1, 2009
External Review
for
Yasaka New Era
on October 27, 2009
I'm a C Pen player, though by no means an advanced offensive player. For what it's worth I find I get great spin, good control, and more than adequate speed using New Era on my forehand on a Donic Appelgren Allplay blade (a slowish allround blade).
However, there's no trace of New Eras in Japan now, and apparently Yasaka don't make it any more, so I suspect that many, like me, will soon be looking for a replacement.
---
External Review
for
Yasaka New Era
on August 2, 2009
New Era is a very good rubber for an advanced offensive player.
I hgihly recommend it!
There is also only ONE version of Yasaka New Era, so the green, pink, and other covers with control, speed , and spin Yasaka New Era are all FAKE! The real New Era should have a cartoon like cover.