Yasaka Cobalt Pips Out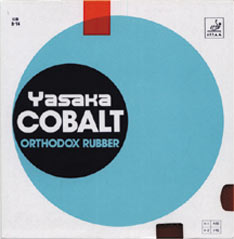 Cobalt rubber, another choice for our American hard bat fighters. It is an all rubber product, no fiber backing, thick enough that it will not curl when glue is applied. Very fast, for the offensive minded!
Speed: 68
Spin: 59
Control: 85
no sponge
---
Customers who purchased Yasaka Cobalt Pips Out also purchased:
Additional Information
Rubber FAQ and Guide - what you need to know when buying rubber sheets.
Compare rubber ratings - compare ratings to other sheets.
Best Price Guarantee We guarantee to have the lowest prices (shipping included) in the US. Please tell us if you to lower price.
Reviews of Yasaka Cobalt Pips Out (2)
External Review
for
Yasaka Cobalt Pips Out
on February 18, 2015
this is my BH chopping rubber right now, OX version.. and this rubber really can chops.. quite slow but you can make heavy loop with it.. but not enough spin on pushes.. and what i like most from this rubber is the smell, maybe its a strange smell of an orthodox rubber, who knows.. overall, i like it much.. chopchop!

Blade: Xiom Aigis
FH: (Black) 729 Tackspeed 200
BH: (Red) Yasaka Cobalt OX
---