Yasaka Carbon 3D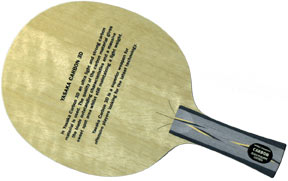 $49
.95
$74.95
Save $25.00 (33%)
Sorry, this item is currently out of stock. You may ask us to send you a restocking notification when this item is back in stock.
In Yasaka Carbon 3D an ultra light and strong carbon material is used. The quality of the carbon material gives the blade outstanding characteristics and a massive sweet spot area whilst still maintaining a light weight.
Yasaka Carbon 3D is a superior weapon for offensive players looking for the latest technology!

Speed: 89
Control: 79
Weight: 90g
Blade FAQ and Guide - what you need to know when buying a blade.
Compare Blades - blade rating comparison chart.
Blade Weight Variations - Actual blade weight may vary by up to 8g.
Blade Sealing/Varnish
You may
add blade sealing
for this blade. Sealing prevents wood splintering.
Best Price Guarantee
We guarantee to have the lowest prices (shipping included) in the US. Please tell us if you see a lower price.
Reviews of Yasaka Carbon 3D (4)
External Review

for

Yasaka Carbon 3D

on December 23, 2010
Excellent blade. balancing power with control. Also the handle is comfy as it is thick enough to fill the grip of a big palm like mine. I use the anatomical handle and it suits me fine.
---
External Review

for

Yasaka Carbon 3D

on November 18, 2010
in yaska cardon 3d an light strongcarbon material is used.the qulity of the carbon material gives the blade outstanding characteristics and massive sweet spot areea whilst still mantaining a light weight
---
External Review

for

Yasaka Carbon 3D

on September 10, 2010