Andro Shifter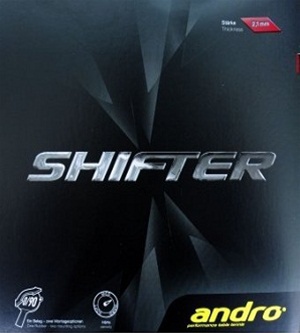 $31
.99
$42.95
Save $10.96 (26%)
Sorry, this item is currently out of stock. You may ask us to send you a restocking notification when this item is back in stock.
andro Shifter – This rubber has what it takes to become a classic! Its very spinny, hard surface and the flexible medium sponge build up the core of this rubber. Excellent spin, control and pleasant speed are the results, when surface and sponge are interacting with each other. Every player type can take advantage of these characteristics – no matter if you prefer a passive playing style or powerful offensive strokes. andro Shifter's unique advantage is the possibility for you to chose between two different ways to assemble the rubber: 0° for more speed, 90° for more spin and control. The sum of these characteristics make andro Shifter a real star among all-round rubbers!
Speed: 94
Spin: 104
Control:94
Sponge Hardness: Medium Soft
Andro has dedicated over three decades to the development of high-performance table tennis equipment. Exemplifying German engineering prowess, Andro rubbers are built for speed, spin and versatility. Through rigorous research and development, Andro consistently delivers products for those individuals who demand the most from their table tennis equipment. No one demonstrates this better than Simon Gauzy from the Andro pro team. His unrelenting style of play lets him push the boundaries of what's physically possible.
Andro has a long list of professional quality rubbers. The Andro Rasanter series is a mainstay in the table tennis world and the Hexer series is on the cutting-edge of offensive rubbers. For pips-out players, check out the Andro Blowfish and Chaos rubbers. Andro rubbers will keep you going strong in your next match!
---
Rubber FAQ and Guide - what you need to know when buying rubber sheets.
Compare rubber ratings - compare ratings to other sheets.
Best Price Guarantee
We guarantee to have the lowest prices (shipping included) in the US. Please tell us if you see a lower price.
Reviews of Andro Shifter (1)
External Review

for

Andro Shifter

on November 9, 2011
Not Tacky at all and less grip than a Mark V and a classic sriver, but still enough grip to loop nice. very controlled rubber. Performs every stroke well: push, block, loop. Still having some problems to loop against backspin. Even if i have the feeling that this rubber is not "grippy" enough you can produce much spin in serves and loops.
Its just a nice allround rubber for beginner oder non-professionals who loop, block and push