10% off
orders of 2 or more
Andro rubber sheets
. Add the rubber sheets to your cart to see the discount.
Andro Impuls Speed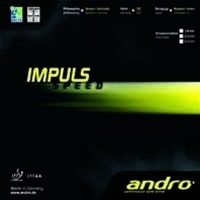 The Impuls SPEED releases significantly more speed and spin than the successful Impuls rubber – without losing control! Being the softest of all andro TENSOR BIOS rubbers so far, it is made of a harmonised rubber recipe that provides players of average and lower class levels with more controlled power during active strokes. The character of the Impuls SPEED combines two rubber types: the very soft sponge absorbs the opponent's speed in the passive control play very well. In the active playing modus it enables to more energy. The strong sound and improved ball handling will impress every player immediately. Experience fewer mistakes due to the extra high flying curve and bigger ideal hitting area! The Impuls SPEED can be managed without effort also when practice less.

Speed: 89
Spin: 105
Control: 84
Density: Med
---
Customers who purchased Andro Impuls Speed also purchased:
Andro has dedicated over three decades to the development of high-performance table tennis equipment. Exemplifying German engineering prowess, Andro rubbers are built for speed, spin and versatility. Through rigorous research and development, Andro consistently delivers products for those individuals who demand the most from their table tennis equipment. No one demonstrates this better than Simon Gauzy from the Andro pro team. His unrelenting style of play lets him push the boundaries of what's physically possible.
Andro has a long list of professional quality rubbers. The Andro Rasanter series is a mainstay in the table tennis world and the Hexer series is still popular with many players. Andro rubbers will keep you going strong in your next match!
---
Rubber FAQ and Guide - what you need to know when buying rubber sheets.
Compare rubber ratings - compare ratings to other sheets.
Best Price Guarantee
We guarantee to have the lowest prices (shipping included) in the US. Please tell us if you see a lower price.
Reviews of Andro Impuls Speed (8)
View all 8 reviews
Plus: control, spinny loops, counter hitting.
Minus: not very fast, wears out fast, bad spin on serves.
---
It's very slow, but if control is what you want you'll love it.

It's perfect for beginer's bh
---
Very good rubber pretty soft with lots of spin the onlt bad thing is that you´ll have to change this rubber every 4 months.
---
Plus: Accurate hitting, looping on backspin/opening, good speed on counter looping

Minus: Slow on driving, no spin serves, not good on blocking
View all 8 reviews

Andro Rubber

Table Tennis Rubber
---
All items are in stock unless otherwise stated. All prices are in USD.
If you need help or advice please contact us. We are happy to help!