Andro Roxon 500 Pro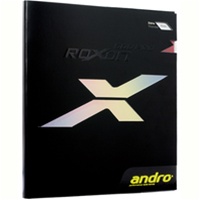 Price: $46.95
$52.17 10% OFF

The top athlete is our most critical customer. Right he is because his level of playing table tennis is so sophisticated that he is also setting high standards for his body and his material. The ROXON 500pro is designed for exactly this technically elaborate high-class player. Due to an optimised surface net structure the player can generate utmost stroke dynamic with this rubber. Precision and stability, broad sound and an exercise book flying curve: that these effects can be reached with speed-glue only belongs to the past from now on. ROXON is the future! The rubber for the absolute top-player!
Utmost speed-glue feeling and endurance!
ROXON POWER: In the year 2000 andro introduced its first generation of TENSOR rubbers. Back in these days already a much promising alternative to speed-gluing. Nobody had imagined that speed-gluing would once completely vanish from table tennis. Since then we have continuously driven the development of our rubbers aiming to close the performance gap to speed-glued rubbers. Today we are ready - we don't need any more speed glue. We have ROXON!
Finally: Strong strokes with power-sound, highest precision, variation and stability with killer-topspins!
And all that : Without speed-gluing. For the best players with the highest demands.
ROXON - thanks to TENSOR BIOS.

Speed: 115
Spin: 107
Control:74
Sponge Hardness: Hard

---
Customers who purchased Andro Roxon 500 Pro also purchased:
Additional Information
Rubber FAQ and Guide - what you need to know when buying rubber sheets.
Compare rubber ratings - compare ratings to other sheets.
Free shipping over $50 to contiguous US.
Best Price Guarantee We guarantee to have the lowest prices (shipping included) in the US. Please tell us if you find a lower price.
Reviews of Andro Roxon 500 Pro (12)
Submit a short review about Andro Roxon 500 Pro.

View all 12 Reviews
| | |
| --- | --- |
| | External Review on June 21, 2013 |
I like these rubbers. That said, there are a few differences in them which I do not like. I find it very hard to generate lift. My wife also said, that with these rubbers spinning is less.

These aren't a deal breaker, as they suit my game. I use them with a Tempertech OFF+, and depend on the speed to shorten points.
---
| | |
| --- | --- |
| | External Review on February 2, 2013 |
Very fast rubber, used it as forehand rubber 2mm, vanted to buy MAX, but discovered Platin X1 Turbo and liked it a bit better than Roxon500, because Platin X1 Turbo is a bit softer with more spin and better control due to the higher ball trajectory.
---
| | |
| --- | --- |
| | External Review on April 20, 2012 |
| | |
| --- | --- |
| | External Review on November 21, 2011 |
Andro Roxon 500 Pro is a very good offensive players to bat.I have a roxon 500 pro forehand and roxon 450 backhand.This paddle is very good
---
| | |
| --- | --- |
| | External Review on July 1, 2011 |
I do not undersand you guys with the speed and spin rating..? Its great top quality rubber, very spinny, can generate loads of spin on serve, very gor for topslin drives and smaches, but you need to play from close-medium distance to the table, excellent for blocking and pushing due to low throwing angle. Not too easy from way from the table due to low throwing angle.

View all 12 Reviews