Andro Roxon 500 Pro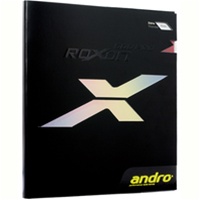 $46
.95
$52.17
Save $5.22 (10%)
The top athlete is our most critical customer. Right he is because his level of playing table tennis is so sophisticated that he is also setting high standards for his body and his material. The ROXON 500pro is designed for exactly this technically elaborate high-class player. Due to an optimised surface net structure the player can generate utmost stroke dynamic with this rubber. Precision and stability, broad sound and an exercise book flying curve: that these effects can be reached with speed-glue only belongs to the past from now on. ROXON is the future! The rubber for the absolute top-player!
Utmost speed-glue feeling and endurance!
ROXON POWER: In the year 2000 andro introduced its first generation of TENSOR rubbers. Back in these days already a much promising alternative to speed-gluing. Nobody had imagined that speed-gluing would once completely vanish from table tennis. Since then we have continuously driven the development of our rubbers aiming to close the performance gap to speed-glued rubbers. Today we are ready - we don't need any more speed glue. We have ROXON!
Finally: Strong strokes with power-sound, highest precision, variation and stability with killer-topspins!
And all that : Without speed-gluing. For the best players with the highest demands.
ROXON - thanks to TENSOR BIOS.

Speed: 115
Spin: 107
Control:74
Sponge Hardness: Hard

---
Customers who purchased Andro Roxon 500 Pro also purchased:
Additional Information
Rubber FAQ and Guide - what you need to know when buying rubber sheets.
Compare rubber ratings - compare ratings to other sheets.
Best Price Guarantee We guarantee to have the lowest prices (shipping included) in the US. Please tell us if you find a lower price.
Reviews of Andro Roxon 500 Pro (12)
View all 12 Reviews
External Review

for

Andro Roxon 500 Pro

on June 21, 2013
I like these rubbers. That said, there are a few differences in them which I do not like. I find it very hard to generate lift. My wife also said, that with these rubbers spinning is less.

These aren't a deal breaker, as they suit my game. I use them with a Tempertech OFF+, and depend on the speed to shorten points.
---
External Review

for

Andro Roxon 500 Pro

on February 2, 2013
Very fast rubber, used it as forehand rubber 2mm, vanted to buy MAX, but discovered Platin X1 Turbo and liked it a bit better than Roxon500, because Platin X1 Turbo is a bit softer with more spin and better control due to the higher ball trajectory.
---
External Review

for

Andro Roxon 500 Pro

on April 20, 2012
External Review

for

Andro Roxon 500 Pro

on November 21, 2011
Andro Roxon 500 Pro is a very good offensive players to bat.I have a roxon 500 pro forehand and roxon 450 backhand.This paddle is very good
---
External Review

for

Andro Roxon 500 Pro

on July 1, 2011
I do not undersand you guys with the speed and spin rating..? Its great top quality rubber, very spinny, can generate loads of spin on serve, very gor for topslin drives and smaches, but you need to play from close-medium distance to the table, excellent for blocking and pushing due to low throwing angle. Not too easy from way from the table due to low throwing angle.
---
External Review

for

Andro Roxon 500 Pro

on March 1, 2011
I was looking for a rubber to replace Tenergy 64 i was using on forehand, the reason being is that Tenergy 64 is £50 pounds near enough and i wanted to find a cheaper rubber that can do the same job. Andro Roxon 500 pro is exactly that rubber, only thing is its not forgiving, so your technique has to be perfect, and then its a great rubber. Its faster than Tenergy 64, better for smashes, and its a spin rubber, i can do fast power spins and light wrist hand spins also very powerful, in fact its an amazing rubber and £20 pounds cheaper than Tenergy.!!! It peals off and re-glues easily without shrinking like Tenergy does, and its easy to re-tune, it lasts that same as Tenergy rubbers, and that depends on how much you play, i play 2 hrs a day 7 days a week and it lasts about 3 months before i change it, and ive only changed it just because i can, not because the rubbers gone, its still good at 3 mths. Its a good hitters rubber and i spin aswell with Roxon 500 pro as i can with Tenergy 64 and Tenergy 05. Its all about technique. I love this rubber, im very curious now about Roxon 450, which is the same topsheet as 500 pro but softer. I love this rubber its great and recommend it to any decent player, but i must stress techique must be good to play this rubber, hense Andro recommend this rubber for better players, saying that ive only been playing for 9 mths in total and i play with it great, but then ive got a good coach who teaches me to play with anything. I find this rubber easy to play with. and has helped my game, i cover matches in 2nd and 1st Div of Welsh league, and manage ok. Saying that, table tennis is not that hard to learn, i got to a good standard at 2 hrs a day coaching and playing in 9 mths flat, easy. But this rubber is brill. 10 out of 10 from me.
---
External Review

for

Andro Roxon 500 Pro

on January 20, 2011
This is a very fast Rubber and sponge. I came from Tenergy 64 FH to this Andro Roxan 500 pro, small topspin lifts were very poor, pushing is great, but i like to open with a serve which it does well then small hand topspin lift and to open 3rd ball with attack. The Butterfly Tenergy does that job great, but loses in power compared to the Roxon 500 pro. If the Tenergy had the Roxan,s power smashes and low throw angle and long trajectory, with its small and long loop capability that would be the perfect rubber. On its own Tenergy lacks power compared to the Roxan 500 pro, but the 500 pro loses out to not much spin. You can loop easily with it, away from the table and drive the ball up, but if you want to do small topspins and loops the ball drops off the rubber and into the net, which is frustrating. Im now trying on backhand to see how a long powerful trajectory it has, and according to my belief it might just do better on backhand than forehand because of low arc, powerful smashes, and easy push,s, and im back on Tenergy 64 for forehand and can noticibly notice the lower power in smash,s compared to roxon 500.
What i find strange is, Butterfly rate Tenergy 64 power as 9.5, spin 95, control 8.5, yet they rate Roxon 500 pro as power 9.00, spin as 8.5 and control as 7.5. To be Frank and not offensive to Butterfly, the Roxon by far is more the powerfulest rubber and control is good, but spin is by far half of the Tenergy 64,s capabilities. Shame you could,nt combine the two rubbers.!!!!!!!!!! anyway, a brill rubber, but needs really good tecnique to spin and only away from the table, power smash,s are the best ive used, bryce speed FX is not even as powerful as this rubber. You need to let the glue soak in and dry 6 times though before you use, then allow to dry completely, then glue your blade and stick the rubber on and cut. Also it doesnt shrink when you take Roxon 500 pro off to re-glue to try on other blades, its really good and just glues staright back on without shrinking. I really like this rubber, but for spins Tenergy wins, for pure just pure enormous power smash,s roxon 500 pro is the beast of all rubbers, im playing with it tonight on backhand so hope i can control it on that side, i reckon it will be better for me personally. Remember this is only my opinion and for me personaly. oh by the way, your welcome.
---
External Review

for

Andro Roxon 500 Pro

on October 6, 2010
the top sheet is not durable. easy to get blur. however, the speed is its strength.
---
External Review

for

Andro Roxon 500 Pro

on March 19, 2009
To say this first: I just tested it for some hours, in the end it wasn't the proper rubber for me.

Anyway, this is one of the rubbers of the latest TENSOR generation. It has an extreme catapult effect, which makes you smash all the time, rather than playing top spins. Anyway playing Top Spin isn't that great as the balance between spin and speed is mostly based on speed. So on top of that short game is a difficult task with this one.

in short: very good for smashing, incredibly fast, difficult to control. be aware of that before you buy this rubber, i recommend to borrow this rubber from someone beforehand
---
External Review

for

Andro Roxon 500 Pro

on October 8, 2008
The Andro Roxon is a great tensor rubber. It has broken the speed and spin barriers set by the new gluing standard. The 450 and 500 are quite different, so make sure to get the right one for you.

Its a pretty spinny rubber, capable of high arcing loops and very fast smashes. The topsheet and sponge are both relatively soft, so you will have good feeling with it. The durability of Roxon (and Andro rubbers in general) is not terribly good. they rip and tear quite easily.
View all 12 Reviews