Andro Plasma 470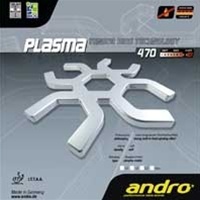 Sorry, this item is currently out of stock. You may ask us to send you a restocking notification when this item is back in stock.
The most powerful of the three PLASMA rubbers is specifically designed for the top class player. Despite its middle hard sponge the PLASMA 470 provides a soft and controlled playing feeling. During fast topspin strokes it is clearly the rubber with the biggest power within the andro range at the moment!

PLAY PLASMA – Do the change NOW!
Already months before start of the speed-gluing ban, andro is launching the PLASMA - its first rubber for "the time after". The PLASMA has the speed-gluing effect already built-inside – the rubber needs no more speed glue. PLASMA is manufactured in the new TENSOR BIOS technology and has two outstanding features:
INTEGRATED SPEED GLUE POWER
The performance increasing effect of the fresh gluing – a massive boost of spin and speed – is integrated in the PLASMA. Tests have proven that 70% of the potential performance addition of maximum speed gluing (7-times pre-gluing) is permanently built in the PLASMA from the production process. andro promotion athletes and first league players have scrutinized the rubber and confirmed that with the PLASMA they can resign speed-gluing without having to adapt their technique.
ITTF-COMPLIANT SPIN+SPEED POWER
The BIOS logo stands for the health compatibility of the rubbers. PLASMA rubbers were analysed for their concentration of organic solvents. They are significantly below the threshold fixed by the ITTF for the future. Also the other substances of content are without any health risk for the user.

Speed: 110
Spin: 105
Control:75
Sponge Hardness: Hard
Andro has dedicated over three decades to the development of high-performance table tennis equipment. Exemplifying German engineering prowess, Andro rubbers are built for speed, spin and versatility. Through rigorous research and development, Andro consistently delivers products for those individuals who demand the most from their table tennis equipment. No one demonstrates this better than Simon Gauzy from the Andro pro team. His unrelenting style of play lets him push the boundaries of what's physically possible.
Andro has a long list of professional quality rubbers. The Andro Rasanter series is a mainstay in the table tennis world and the Hexer series is on the cutting-edge of offensive rubbers. For pips-out players, check out the Andro Blowfish and Chaos rubbers. Andro rubbers will keep you going strong in your next match!
---
Rubber FAQ and Guide - what you need to know when buying rubber sheets.
Compare rubber ratings - compare ratings to other sheets.
Best Price Guarantee
We guarantee to have the lowest prices (shipping included) in the US. Please tell us if you see a lower price.
Reviews of Andro Plasma 470 (9)
View all 9 reviews
this is an exxelent rubber for the attacking player i use this myself however you have to be able to have a great controll and it does wear out i had the rubber for about 6 months then realised that it had 2 rips in it so it is not very durable tyhe consistancy has chamnged since the 8 months i have had the rubber for it was perfect when i first got it however has got alot different and changes quite odtenkly however i rweccomend this ifr you are able to buy a new sheet of the rubber every 5 months however if you are looking for a rubber which you are able to keep for a long time without it breaking this is not the rubber if you ever have to play against this rubber i reccomend youbn try chopping if the payer is not able to loop it back because when you try and chop it back the consistancy is not the same and becomes very easy to hit the net but for attacking it is very good and i would reccomend it for great looping you have to be good to use this rubber though because the controll is not the best however at a good standard it can become deadly for kill shots smashing AND drives which i reccomend it for aswekll as why the rubber was made for looping
---
uigh the white (470) version of the plasma is soooo bad feeling to me. i absolutely hate it. thpe reason is because this version of it is so sluggish. the green version ( 490 i think???) is much better in my opinion, because it is a more swift hit, like an actual offensive rubber. this version of it is wayy too slow. it seems like a terrible mix between a chop and attachking ruber. for example, when you loop it, it seems to like dip so fast, but the speed of it is so slow. it feels very HEAVY, not light and fast like the other version. i really do not think it is good for anyone!
View all 9 reviews

Andro Rubber

Table Tennis Rubber
---
All items are in stock unless otherwise stated. All prices are in USD.
If you need help or advice please contact us. We are happy to help!