Andro Revo Fire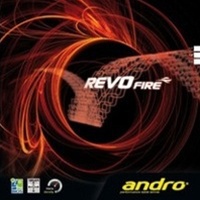 Sorry, this item is currently out of stock. You may ask us to send you a restocking notification when this item is back in stock.
Maximum sweet spot + powerful topspin strokes
TENSOR - not only more speed, more power and speedgluing sound, but also more spin and more feeling! The exceptional feeling of TENSOR rubbers is core of the REVO FIRE. The sponge absorbs the energy of the appearing ball when the player hits the ball and immediately new energy is released. This effect, responsible for the special feeling, enables every player to have a very good control with the REVO fire.
The medium adjusted sponge implements accents in active as well as in passive playing situations by demonstrating a brilliant catapult effect. One can play fast and precise topspins and in decisive moments REVO fire offers its existing speed reserves in order to directly achieve the winning point.
Ideal value-for-money for everybody!

Speed: 101
Spin: 102
Control:84
Density: Med
Andro has dedicated over three decades to the development of high-performance table tennis equipment. Exemplifying German engineering prowess, Andro rubbers are built for speed, spin and versatility. Through rigorous research and development, Andro consistently delivers products for those individuals who demand the most from their table tennis equipment. No one demonstrates this better than Simon Gauzy from the Andro pro team. His unrelenting style of play lets him push the boundaries of what's physically possible.
Andro has a long list of professional quality rubbers. The Andro Rasanter series is a mainstay in the table tennis world and the Hexer series is on the cutting-edge of offensive rubbers. For pips-out players, check out the Andro Blowfish and Chaos rubbers. Andro rubbers will keep you going strong in your next match!
---
Rubber FAQ and Guide - what you need to know when buying rubber sheets.
Compare rubber ratings - compare ratings to other sheets.
Best Price Guarantee
We guarantee to have the lowest prices (shipping included) in the US. Please tell us if you see a lower price.
Reviews

Andro Rubber

Table Tennis Rubber
---
All items are in stock unless otherwise stated. All prices are in USD.
If you need help or advice please contact us. We are happy to help!