Andro Plasma 380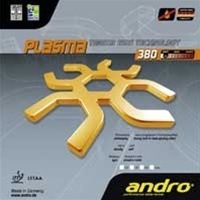 $29
.99
$49.68
Save $19.69 (40%)
The PLASMA 380 will inspire all players searching for an ultra soft and super elastic attacking rubber. The 380 convinces by its extraordinary good control for the ball and it acts extremely mistake forgiving particularly for youth players. The speed level suits lower class players best as they will be able to control the 380 also in difficult situations without a problem.

PLAY PLASMA – Do the change NOW!
Already months before start of the speed-gluing ban, andro is launching the PLASMA - its first rubber for "the time after". The PLASMA has the speed-gluing effect already built-inside – the rubber needs no more speed glue. PLASMA is manufactured in the new TENSOR BIOS technology and has two outstanding features:
INTEGRATED SPEED GLUE POWER
The performance increasing effect of the fresh gluing – a massive boost of spin and speed – is integrated in the PLASMA. Tests have proven that 70% of the potential performance addition of maximum speed gluing (7-times pre-gluing) is permanently built in the PLASMA from the production process. andro promotion athletes and first league players have scrutinized the rubber and confirmed that with the PLASMA they can resign speed-gluing without having to adapt their technique.
ITTF-COMPLIANT SPIN+SPEED POWER
The BIOS logo stands for the health compatibility of the rubbers. PLASMA rubbers were analysed for their concentration of organic solvents. They are significantly below the threshold fixed by the ITTF for the future. Also the other substances of content are without any health risk for the user.

Speed: 96
Spin: 101
Control:92
Sponge Hardness: Soft

---
Customers who purchased Andro Plasma 380 also purchased:
Andro has dedicated over three decades to the development of high-performance table tennis equipment. Exemplifying German engineering prowess, Andro rubbers are built for speed, spin and versatility. Through rigorous research and development, Andro consistently delivers products for those individuals who demand the most from their table tennis equipment. No one demonstrates this better than Simon Gauzy from the Andro pro team. His unrelenting style of play lets him push the boundaries of what's physically possible.
Andro has a long list of professional quality rubbers. The Andro Rasanter series is a mainstay in the table tennis world and the Hexer series is on the cutting-edge of offensive rubbers. For pips-out players, check out the Andro Blowfish and Chaos rubbers. Andro rubbers will keep you going strong in your next match!
---
Rubber FAQ and Guide - what you need to know when buying rubber sheets.
Compare rubber ratings - compare ratings to other sheets.
Best Price Guarantee
We guarantee to have the lowest prices (shipping included) in the US. Please tell us if you see a lower price.
Reviews of Andro Plasma 380 (8)
External Review

for

Andro Plasma 380

on September 29, 2014
Physical:

Very soft rubber, red sheet comes with orange sponge. It looks quality like most esn products. Sponge has some pores on it but they are not large. It I light rubber also with high grip and no tack. Pack is ok, class below Xiom maybe even two classes.

Spin:

Solid spin on openers. It is very easy to do slow spinney opening loop versus serve or longer push. As you go back off the table more effort is needed but nothing to worry about unless you play at very high level.

Speed:

On a slower side here. It is not bouncy even on over the table shoots. Off the table you need some body to finish off the point. All in all sort of an all-round attacking speed, best used to set up big shot with FH then to try to dominate with the sheer speed.

Control, throw angle and other:

Control is very high. It is not bouncy rubber and since it is very slow and soft placement with spin is superb. Throw angle for me was on a low side but I am used to much harder sharper rubbers so maybe others would find it different.

Recommendation:

To all developing players who work on placement and lifting under spin to set up their attack. I would also recommend it to players who like to control points instead of overpowering their opponents.

Best of all to you all and have fun playing.
---
External Review

for

Andro Plasma 380

on November 3, 2012
This is a rubber for a beginner. I don't find it spiny or fast. To sum up, it is an okay rubber.
---
External Review

for

Andro Plasma 380

on August 21, 2010
Plasma 380 is an excellent all around rubber with excellent control.
One of the better looping rubbers out there. No problem creating spin with Plasma.
---
External Review

for

Andro Plasma 380

on May 9, 2010
Andro 380 reminds me of an attempt to improve Donic Desto F3. It's targeted at the same segment of control/developing players, yet at the time, used a newer generation of ESN sponge technology. If I recall correctly, F3 was updated to this generation. This rubber makes looping from close to mid effortless, although it does not seem well suited to over the table looping (too bouncy). Similarly, push and chop are very bouncy and take some adjustment from classic rubbers. While the speed glue effect and sound were pretty good, I was actually disappointed that this rubber was a bit too fast for what I was looking to do with it (Allaround beginner-intermediate play on a Stiga Allaround Classic). I was unhappy also with how fast the rubbers deteriorated, in terms of topsheet, wear, spin production and resistance to impact. If you can get the rubber on clearance or special below $30 it's a good buy. If you're paying more than $30, you may find that F3 (for control) or Joola Green Energy (for power) suits you better.
---
External Review

for

Andro Plasma 380

on March 1, 2009
The andro plasma 380 is a very good rubber, it has outstanding controll and the feel is very good.
The sponge is pretty soft and grippy which makes it easy to create spin and take on loop balls.
Its no speed monster bit its fast enough, its a rubber for beginners , allrounders our offensive allrounders who like a control based game, attackers could better use a faster rubber to finish off rallys with more ease since it might lack some power but the plasma 380 is a good rubber from andro
---
External Review
for
Andro Plasma 380
on September 26, 2008
offensive: very consistent and controllable because the throw angle is quite high. As it is a fast rubber, you have to put a lot effort in your top spins in order to make them fast. yet you top spins will be very spinny.

defensive/short game: not good. it is very difficult to play the ball lowly, because ht soft sponge makes the ball fly high automatically. -> backspin balls won't be too spinny.

serves: similar to short game

recommended to: offensive players who like controlled offensive, not an all out offensive
---
External Review

for

Andro Plasma 380

on March 29, 2008
Oh yes! This is a great rubber. Most people will probably think it's a tad slow. But it depends what blade it's paired with. I have these on an Andro Super Core Kinetic OFF+, which is quite stiff, so it really eats into the ball. The tensor effect of the plasma series is great. When I unload with this rubber, I bet the neighbors think someone just got shot! "Crack!". The throw angle and spin make it very easy to touch table on aggressive forehands. The rubber plays a little dead on blocks though. This would be a great rubber paired with a hard blade and someone who plays a controlled looping sorta game.
---