Andro Super Core Cell OFF-
$36
.99
$54.99
Save $18.00 (33%)
The CELL OFF- combines the power of an offensive blade with the fantastic feeling for the ball known from an allround wood – therefore the ideal choice for many players. Though the OFF- is relatively fast you will never have the feeling of losing control of the ball. This enables to comfortably reliable blocks without the loss of speed especially in the passive play. A change-over to active top spins happens easily because the high base speed reduces work. The innovative small cells within the grip system filled with special foam maximize the feeling for the ball and further help to decrease the error rate for strokes hit under time pressure. The perfect blade for the sportive offensive athlete.

Speed: 87
Control:95
Feel: Medium Hard
Weight:80g
Super Core Cell Technology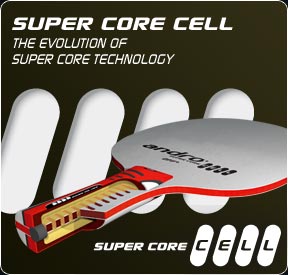 • High rebound effect due to thin outer veneers
• Cell structure in handle for maximum vibration reduction
• Innovative 360 edge protection prolongs durability
• Higher ball flying curve improves hitting area and control
• Strengthened blade fiber structure creates a better energy transport and excellent ball feedback
• Enlarged sweet spot area provides high mistake tolerance
• Decreased level of wrist fatigue due to lower weight

---
Customers who purchased Andro Super Core Cell OFF- also purchased:
Blade FAQ and Guide - what you need to know when buying a blade.
Compare Blades - blade rating comparison chart.
Blade Weight Variations - Actual blade weight may vary by up to 8g.
Best Price Guarantee
We guarantee to have the lowest prices (shipping included) in the US. Please tell us if you see a lower price.
Reviews of Andro Super Core Cell OFF- (4)
Review by

rjreyes34

for

Andro Super Core Cell OFF-

on April 5, 2013
Both my wife and I use this bat amongst others, and both like it. It's a little slow for my liking, but that doesn't take anything away from this bat. The control and feel is very nice.
---
External Review
for
Andro Super Core Cell OFF-
on December 24, 2012
Review by

pingpong64

for

Andro Super Core Cell OFF-

on December 20, 2011
i love this blade, the feel is incredible. i have the donic barracuda and donic vario big slam the spin i can generate with amazing control is unbelievable worth the price all day!!
---