JOOLA Rhyzm Tech
Another chapter in the success story of the popular Rhyzm rubber is written by the JOOLA Rhyzm-Tech. Due to modifications of the sponge, which has again been designed with considerably larger pores, a real catapult machine has been developed.
The JOOLA Rhyzm-Tech is a rubber that supports any rotation input in all situations and therefore gives all active topspin players an extra boost.
The JOOLA Rhyzm-Tech is a challenge to overcome. Once this is managed, you can reach a new, significantly higher level.
Speed: 119 (FAST/EXTREME)
Spin: 120 (High/Extra High)
Control:High/ Extra High
Hardness: 42.5 degrees

---
Customers who purchased JOOLA Rhyzm Tech also purchased: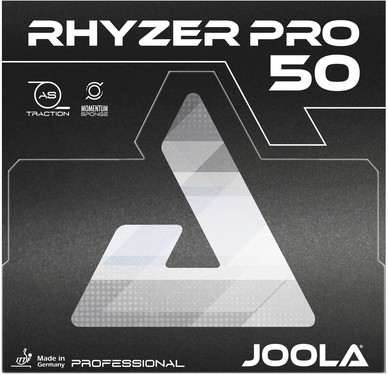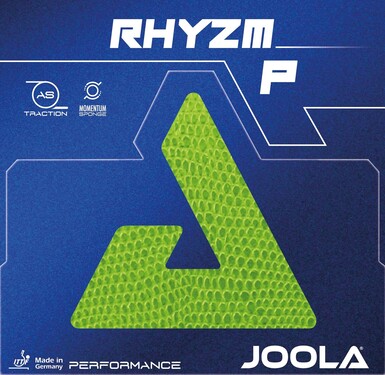 JOOLA Rubber Comparison Chart (Updated June 2021)
JOOLA is a brand with a long history of outstanding products. JOOLA's reputation for quality spans the globe, having originated in Europe, now US-owned, and one of the premier table tennis brands in the world.
The Dynaryz and Rhyzen series are JOOLA's latest rubber sheets featuring state-of-the-art technologies for professional play. The Rhyzm, Rhyzer and Maxxx rubber series are still popular and are focused on delivering more affordable performance to table tennis enthusiasts. Rhyzm-P and Maxxx-P stand out as the flagship rubber sheets from these series, designed for the plastic ball era. Additionally, JOOLA offers various Pips-Out, Anti-spin and defensive-oriented rubbers. Whatever your style, JOOLA has you covered!

Rubber FAQ and Guide - what you need to know when buying rubber sheets.

Compare rubber ratings - compare ratings to other sheets.

Racket Assembly Limitation: We regret that we currently can only assemble this rubber sheet to a JOOLA blade.
Best Price Guarantee
We guarantee to have the lowest prices (shipping included) in the US. Please tell us if you see a lower price.
Reviews of JOOLA Rhyzm Tech (6)
View all 6 reviews

I play with it for less than a year on FH side, and Joola Octopus for BH side. It's very good for the modern defensive players because its high rotation effect on the ball and relatively low speed compared to Butterfly Tenergy 05 as a good model for a spinny but also very fast.
---
2018: I play the Rhyzm-Tech now for 5 days on a Timo Boll ALC in 2 mm, black, cut 47 g by 150 x 156 mm.
What surprises me in retrospect, is that this rubber has been touted as very fast, but, however, it is more particularly spinny. No "not sticky" rubber ever before, gave my service so much rotation and also it was never easier for me to return service passively !!! - ...in addition, I would call him forgiving and very save.
Thanks to the Rhyzm-Tech, my game has become more secure (... and more success) !!! :-D
2019: Now, after using the rubber for 5 months (training 2 times a week) I think, I'll buy a new one. ;-)
- ... reviewed 07/2020
---
decided to give a try to this manufacture since it was a time to change the rubber and i like to try different ones. totally disagree with the characteristics given here.
Speed: 118 (FAST/EXTREME)
Spin: 120 (High/Extra High)
Control:High/ Extra High
as for me, i would cut these numbers in HALF. much slower and less spiny than my previous rubbers: donic blue fire p1 or killerspin fortismo. control is good, but definitely not high as mentioned here. Plus, it makes some sound i guess because of peculiarities of the sponge.
i am not satisfied by this rubber and would not recommend it.
---
Have played with the RT in Max thickness on my BH on an Off carbon blade and I've played very well with it. It has plenty of speed and spin, and the control is fine. I can brush loop and drive my loops with it. The throw angle is definitely higher than the other Rhyzm rubbers. I didn't rate the durability because I've only had it 1 week, but I suspect it will be good since the regular Rhyzm rubbers have good durability. I do disagree with the previous review though that says it's pretty much the same as the "P" series. I have played with the "P" Rhyzm rubber and it doesn't have the spin this rubber does. This rubber is much better IMO than the Rhyzm P rubber. I've let a couple of 2200 players hit with it on their BH and FH and both said they felt like they couldn't miss. Give this rubber a try, you'll like it!
View all 6 reviews

JOOLA Rubber

Table Tennis Rubber
---
All items are in stock unless otherwise stated. All prices are in USD.
If you need help or advice please contact us. We are happy to help!