Butterfly Lezoline Trynex - Red
Free US Shipping
The Red Lezoline Trynex Shoe offers tremendous value
• Durable rubber sole offers a good grip on any playing surface
• Lightweight with great breathability due to the all mesh construction
• A well-cushioned EVA insert provides added comfort
• A shoe built for a wide range of playing styles at a reasonable price
Sizing Chart
| US Size | Euro Size | Japan Size | Inches | mm |
| --- | --- | --- | --- | --- |
| 4.5 | 34 | 22.5 | N/A | N/A |
| 5 | 35 | 23 | 9 3/8 | 238 |
| 5.5 | 36 | 23.5 | 9 1/2 | 241 |
| 6 | 37 | 24 | 9 5/8 | 244 |
| 6.5 | 38 | 24.5 | 9 7/8 | 251 |
| 7 | 39 | 25 | 10 1/8 | 257 |
| 7.5 | 40 | 25.5 | 10 1/4 | 260 |
| 8 | 41 | 26 | 10 1/2 | 267 |
| 8.5 | 42 | 26.5 | 10 3/4 | 273 |
| 9 | 43 | 27 | 10 7/8 | 276 |
| 9.5 | 44 | 27.5 | 11 1/4 | 286 |
| 10 | 45 | 28 | 11 3/8 | 289 |
| 10.5 | 46 | 28.5 | N/A | N/A |
| 11 | 47 | 29 | N/A | N/A |
| 11.5 | 48 | 29.5 | N/A | N/A |
| 12 | 49 | 30 | N/A | N/A |
Sizing Instructions
• Before you purchase your shoes, please take the time to measure the insole of a current sports shoe you wear. Then compare it to the chart above and chose the correct size.
• Sizing varies from manufacturer to manufacturer. As such, do not just order a size based on a different brand of shoe you wear.
• The correct way to measure is from the tip of the toe to the back of the heel, between the two furthest points.
---
Customers who purchased Butterfly Lezoline Trynex - Red also purchased:
Butterfly Shoes Comparison Chart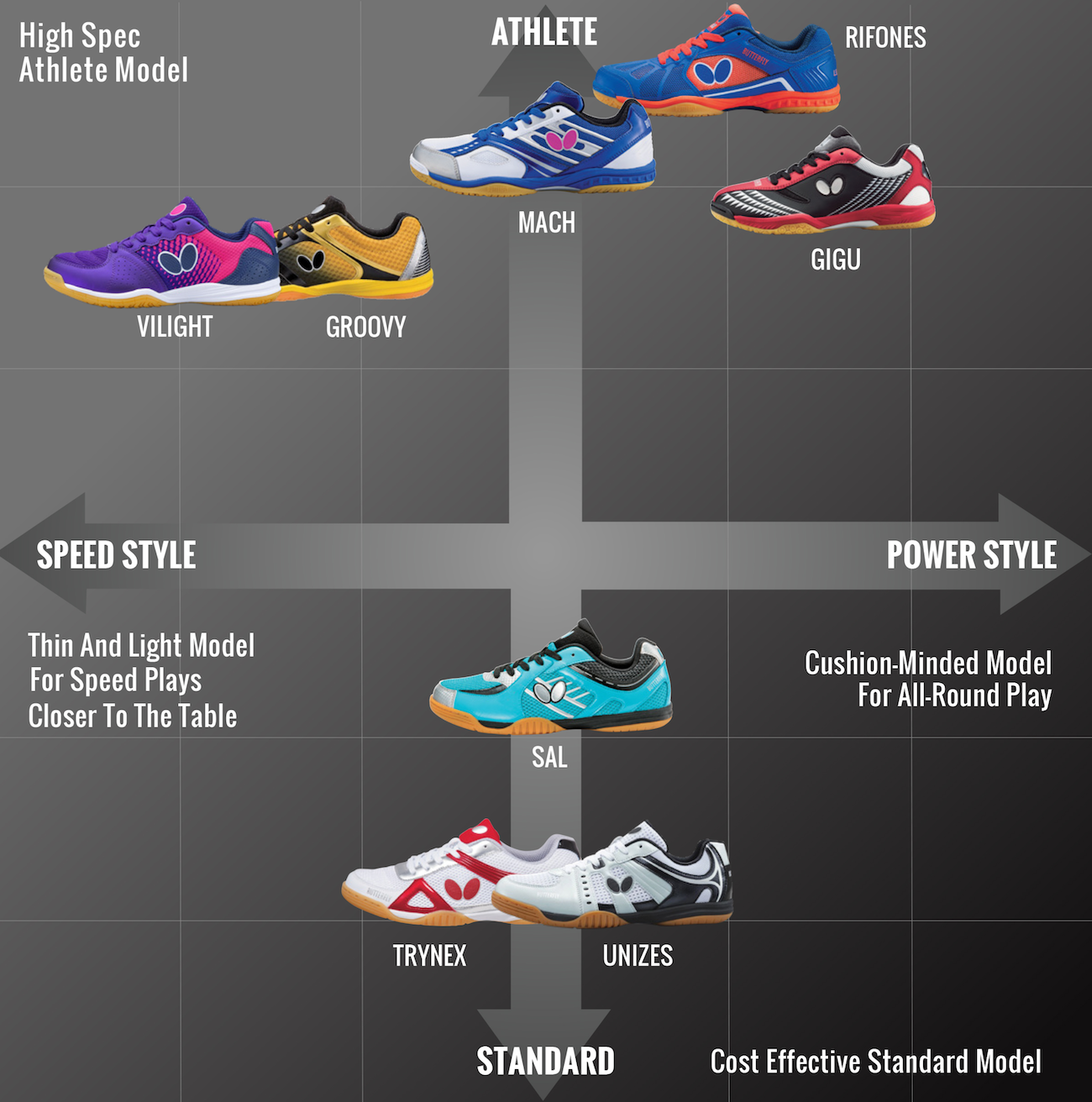 ---
Best Price Guarantee
We guarantee to have the lowest prices (shipping included) in the US. Please tell us if you see a lower price.
Reviews

Butterfly Shoes

Table Tennis Shoes
---
All items are in stock unless otherwise stated. All prices are in USD.
If you need help or advice please contact us. We are happy to help!