Butterfly Lezoline Mach - Blue
Free US Shipping
High Functioning To Meet The Needs Of Top Players
B-Absorber - special shock absorbing sponge placed between outer and middle sole of the forefoot features cushioning and flexibility
Wingrip - specially formed outer sole has high ability of grip and assists your correct movement
B-Ridge - bridge-shaped middle sole supports sliding motion during footwork
STB - prevents distortion of the shoes which happens through the particular movement of table tennis and brings you stable footwork
Sizing Chart
| US Size | Euro Size | Japan Size | Inches | mm |
| --- | --- | --- | --- | --- |
| 4.5 | 34 | 22.5 | 9 | 230 |
| 5 | 35 | 23 | 9 3/8 | 238 |
| 5.5 | 36 | 23.5 | 9 1/2 | 241 |
| 6 | 37 | 24 | 9 3/4 | 248 |
| 6.5 | 38 | 24.5 | 9 7/8 | 251 |
| 7 | 39 | 25 | 10 | 254 |
| 7.5 | 40 | 25.5 | 10 3/8 | 264 |
| 8 | 41 | 26 | 10 1/2 | 267 |
| 8.5 | 42 | 26.5 | 10 3/4 | 273 |
| 9 | 43 | 27 | 11 | 279 |
| 9.5 | 44 | 27.5 | 11 1/4 | 286 |
| 10 | 45 | 28 | 11 3/8 | 289 |
| 10.5 | 46 | 28.5 | 11 1/2 | 292 |
| 11 | 47 | 29 | 11 3/4 | 298 |
| 11.5 | 48 | 29.5 | 11 7/8 | 301 |
| 12 | 49 | 30 | 12 1/8 | 308 |
Sizing Instructions
• Before you purchase your shoes, please take the time to measure the insole of a current sports shoe you wear. Then compare it to the chart above and chose the correct size.
• Sizing varies from manufacturer to manufacturer. As such, do not just order a size based on a different brand of shoe you wear.
• The correct way to measure is from the tip of the toe to the back of the heel, between the two furthest points.
---
Customers who purchased Butterfly Lezoline Mach - Blue also purchased:
Butterfly Shoes Comparison Chart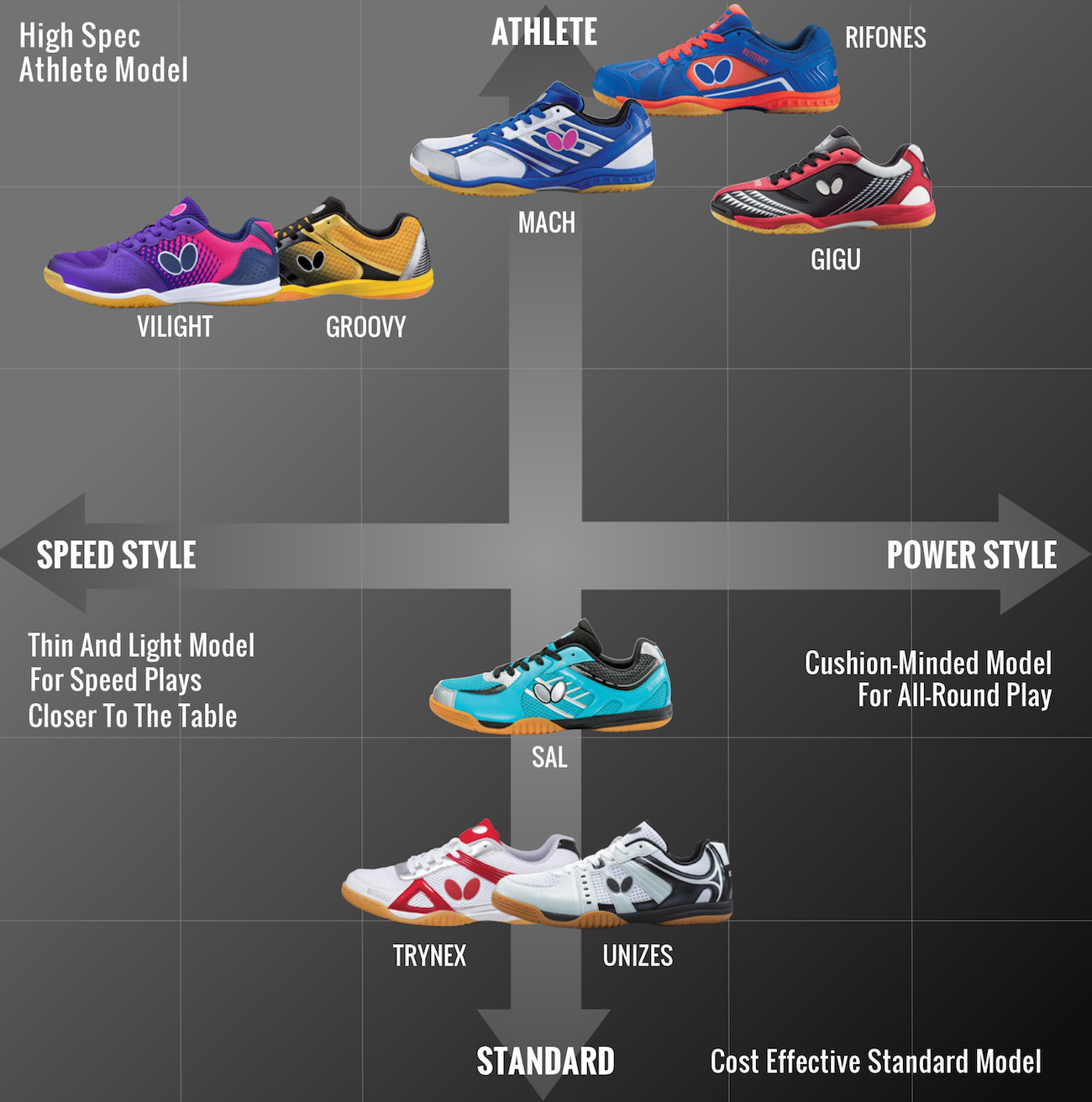 ---
Best Price Guarantee
We guarantee to have the lowest prices (shipping included) in the US. Please tell us if you see a lower price.
Reviews of Butterfly Lezoline Mach - Blue (4)
Gorgeous looking pair of Table Tennis shoes and well made. Not to narrow or not to wide but just right. Very comfortable and light. Perfect medium-wide shoe strings that tie up easy and never come loose (thinking they are cotton). The blue, white, and silver design with the original pink Butterfly Logo make the shoes standout. Movability motion easily done with awesome traction. The engineering of the arch and ball support insole is top-notch and designed to keep your feet as comfortable as they can be while playing and very noticeable afterwards (relaxed feeling). Will definitely buy another pair of these MACH shoes when the time comes. 5 big stars and a huge 10.
---
I purchased this as an open box from eBay but Walter with MS Support helped me by reaching out to Butterfly to ask them the questions I had. MS Support has always been great every time that I have reached out for questions.

I'm a flat footed individual with big feet (depending on the shoe anywhere from size 12 to 14) and I had asked what shoe was recommended best for flat feet and if a specific shoe would fit me.

I measured my heel to toe without a sock at 11.7343 (the line just before 3/4) and these shoes fit GREAT. I prefer to use a thin sport sock with it as it gives me a little extra leeway but you could use a thicker sock if needed and still be comfortable, some people may have discomfort though so I recommend a thin sport sock.

The arch of these is pretty friendly to flat footers, I must say these shoes are so damn comfortable, that I would consider wearing them as my daily driver shoes and not just PP. I might buy another pair just for that.

They are light and I played my first round robin tournament last night in them and was able to move with ease from side to side, backwards forwards and stop on a dime. These are easily my favorite sport shoes I have owned and I would HIGHLY recommend them. I just wish they had more colors in addition to the blue, black/pink and black.

Butterfly Shoes

Table Tennis Shoes
---
All items are in stock unless otherwise stated. All prices are in USD.
If you need help or advice please contact us. We are happy to help!