Holiday Deadline For delivery by Dec 24 we recommend ordering this item by: Dec 18 2PM ET
Butterfly Lezoline Rifones - Black
Best Seller
Free US Shipping
• Color: Black
• B-Armor - covering the front upper part with KPU material of high stiffness. It cushions the forefoot and protects from rapid movements
• One-Sided Shoe Tongue - connecting only the inside part of the shoe tongue, preventing undesired movements and enhances the feeling of a - perfect fit
• B-Ridge - bridge-shaped middle sole supports sliding motion during footwork
• B-Absorber - special shock absorbing sponge placed between outer and middle sole of the forefoot features cushioning and flexibility
• Wingrip - specially formed outer sole has high ability of grip and assists your correct movement
• STB - prevents distortion of the shoes which happens through the particular movement of table tennis and bring you stable footwork
Sizing Chart
| US Size | Euro Size | Japan Size | Inches | mm |
| --- | --- | --- | --- | --- |
| 4.5 | 34 | 22.5 | 9 1/4 | 235 |
| 5 | 35 | 23 | 9 1/2 | 241 |
| 5.5 | 36 | 23.5 | 9 3/4 | 248 |
| 6 | 37 | 24 | 9 7/8 | 251 |
| 6.5 | 38 | 24.5 | 10 | 254 |
| 7 | 39 | 25 | 10 1/4 | 260 |
| 7.5 | 40 | 25.5 | 10 3/8 | 264 |
| 8 | 41 | 26 | 10 5/8 | 270 |
| 8.5 | 42 | 26.5 | 10 7/8 | 276 |
| 9 | 43 | 27 | 11 | 279 |
| 9.5 | 44 | 27.5 | 11 1/4 | 286 |
| 10 | 45 | 28 | 11 3/8 | 289 |
| 10.5 | 46 | 28.5 | 11 5/8 | 295 |
| 11 | 47 | 29 | 11 3/4 | 298 |
| 11.5 | 48 | 29.5 | 12 1/8 | 308 |
| 12 | 49 | 30 | 12 1/4 | 311 |
Sizing Instructions
• Before you purchase your shoes, please take the time to measure the insole of a current sports shoe you wear. Then compare it to the chart above and chose the correct size.
• Sizing varies from manufacturer to manufacturer. As such, do not just order a size based on a different brand of shoe you wear.
• The correct way to measure is from the tip of the toe to the back of the heel, between the two furthest points.
---
Customers who purchased Butterfly Lezoline Rifones - Black also purchased:
Butterfly Shoes Comparison Chart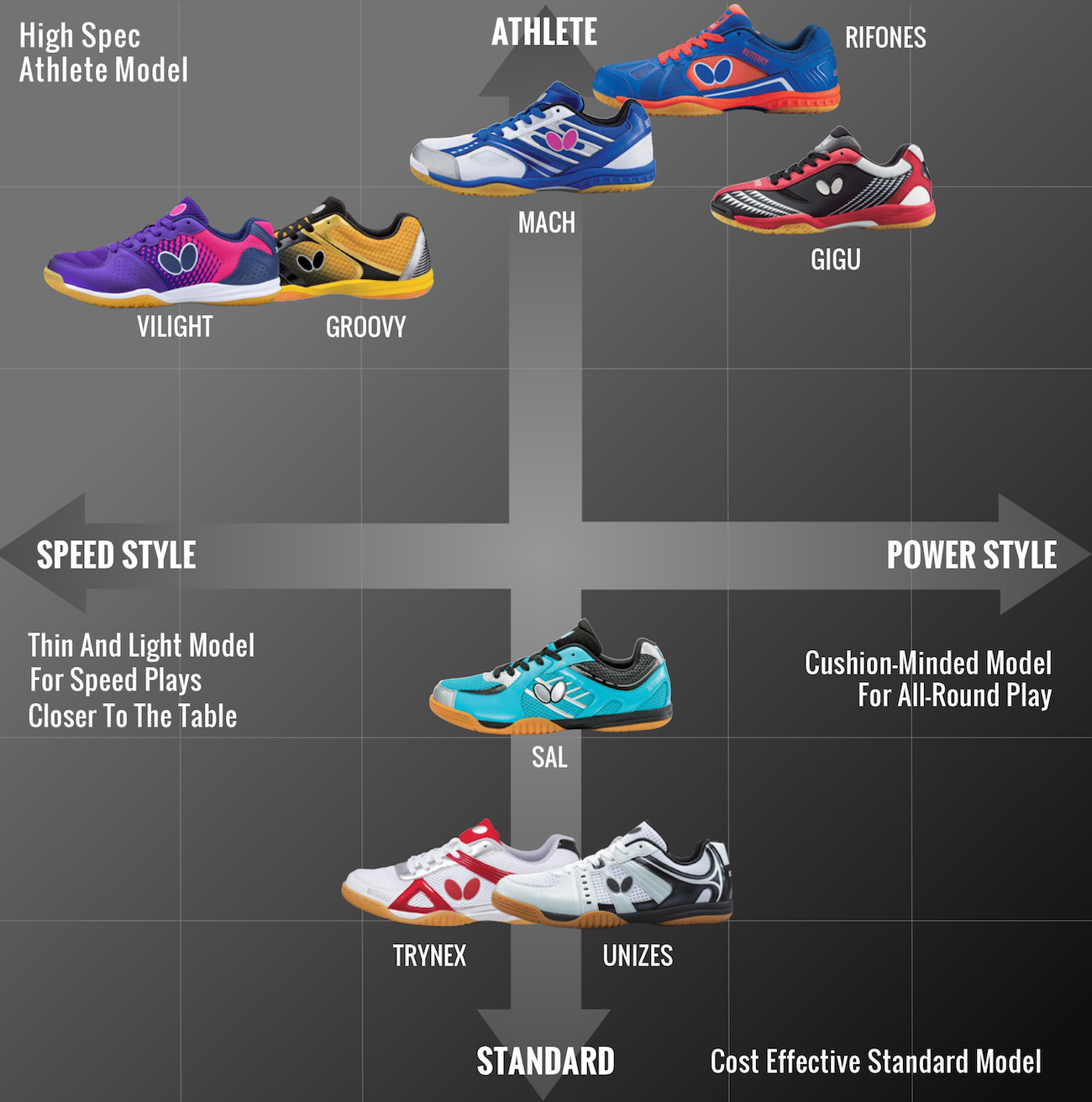 ---
Best Price Guarantee
We guarantee to have the lowest prices (shipping included) in the US. Please tell us if you see a lower price.
Reviews of Butterfly Lezoline Rifones - Black (8)
View all 8 reviews
Best table tennis shoe that I've tried. Grip and comfort are great. I would recommend ordering half a size up. I like that they are mostly made of rubber. Very little fabric/mesh to get dirty or smelly.
---
One of the best table tennis shoes on the market. Very comfortable. Excellent support. Innersoles are top-notch with top of the line outersoles. Light and very durable shoe. 5 stars and a 10.
---
The Lezoline RIFONES shoes are a little more snug than the Lezoline MACH, SAL, & TRINEX shoes but not by much so I sized up one-half size more from a 9.5 to a 10 and the fit is perfect. The RIFONES offer good traction and absorb shock very well. Great looking table tennis shoes and very comfortable. KEEP YOUR FEET HAPPY!!!
---
Really comfortable, excellent fit. More cushioned than most table tennis shoes. The tongue is half wrapped which I didn't expect but it doesn't bother me. A bit on the expensive side. I think the Asics are similar.

View all 8 reviews

Butterfly Shoes

Table Tennis Shoes
---
All items are in stock unless otherwise stated. All prices are in USD.
If you need help or advice please contact us. We are happy to help!