Andro Super Core Cell OFF
Sorry, this item is currently out of stock. You may ask us to send you a restocking notification when this item is back in stock.
The thin outer veneers have a particularly positive impact in this OFF version and create a higher rebound effect. With this blade the player chooses a fantastic composition of speed and control features. The ideal equipment for the variable playing system. The special SuperCore CELL feeling and the higher ball bounce allow well-placed strokes also from half-distance. Compared to its predecessor the ball flying curve is significantly higher and therefore the CELL OFF is easy to manage also for players with average practice efforts. The low weight makes it very gentle in terms of arm and wrist exposure.
Speed: 91
Control:94
Feel: Hard
Weight:85g
Super Core Cell Technology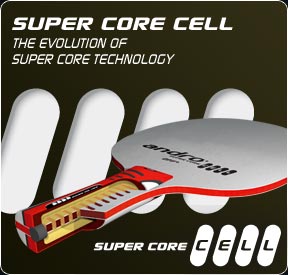 • High rebound effect due to thin outer veneers
• Cell structure in handle for maximum vibration reduction
• Innovative 360 edge protection prolongs durability
• Higher ball flying curve improves hitting area and control
• Strengthened blade fiber structure creates a better energy transport and excellent ball feedback
• Enlarged sweet spot area provides high mistake tolerance
• Decreased level of wrist fatigue due to lower weight

Blade FAQ and Guide - what you need to know when buying a blade.
Compare Blades - blade rating comparison chart.
Blade Weight Variations - Actual blade weight may vary by up to 8g.
Best Price Guarantee
We guarantee to have the lowest prices (shipping included) in the US. Please tell us if you see a lower price.
Reviews of Andro Super Core Cell OFF (9)
View all 9 reviews
Underrated blade. It has very nice feel and control and still with a decent speed.
---
Pretty nice blade, but i cant stand the hollow blop, blop-sound it produces, no matter even if you use thick rubbers!
---
blade is very good for counter attacker, must have textbook strokes with it, not a beginner blade, does not like to push well but flips amazing. i rate the control higher then what they have here, for me it likes softer rubbers, using t05fx fh and evolution fxp bh, and my game has never been better, also plays well w rasant and razka 7.. recommended
---
View all 9 reviews

Andro Blades

Table Tennis Blades
---
All items are in stock unless otherwise stated. All prices are in USD.
If you need help or advice please contact us. We are happy to help!