Andro Super Core Cell OFF+
$48
.99
$54.99
Save $6.00 (11%)
The Super Core CELL OFF+ is a very fast offensive blade, yet it is easy to play with. It requires the player's full commitment to completely activate the blade's speed resources. The CELL OFF+ provides very good elasticity and control with clearly more power in every ball. The strengthened fibers of the 7-layered veneer construction releases energy more efficiently. Also balls that are not hit in the center will be equipped with sufficient power due to the bigger sweet spot – recommended for a very offensive playing system.

Speed: 94
Control:93
Feel: Hard
Weight:85g

Super Core Cell Technology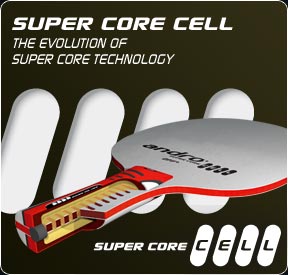 • High rebound effect due to thin outer veneers
• Cell structure in handle for maximum vibration reduction
• Innovative 360 edge protection prolongs durability
• Higher ball flying curve improves hitting area and control
• Strengthened blade fiber structure creates a better energy transport and excellent ball feedback
• Enlarged sweet spot area provides high mistake tolerance
• Decreased level of wrist fatigue due to lower weight

---
Customers who purchased Andro Super Core Cell OFF+ also purchased:
Additional Information
Blade FAQ and Guide - what you need to know when buying a blade.
Compare Blades - blade rating comparison chart.
Blade Weight Variations - Actual blade weight may vary by up to 8g.
Best Price Guarantee We guarantee to have the lowest prices (shipping included) in the US. Please tell us if you find a lower price.
Reviews of Andro Super Core Cell OFF+ (9)
Review by

gourabkar

for

Andro Super Core Cell OFF+

on August 6, 2017
I have used this bat for 2 years. It is fantastic. It is fast as well as super light. Definitely not for beginners. I have played at advanced levels and it is best suited for that. I had Donic JP Sonex Gold on the forehand for power, speed and spin; and Desto F3 Big Slam on the backhand for control.
---
External Review

for

Andro Super Core Cell OFF+

on August 1, 2015
Fast and good control. Looks attractive and I bought it for my son's first blade.
---
External Review

for

Andro Super Core Cell OFF+

on June 23, 2015
very fast and hard blade , budget blade but dont start on this blade,gr8 for offensive player,blocking can be good if use medium to hard sponge or soft with 1.8-2.0
---
External Review

for

Andro Super Core Cell OFF+

on June 8, 2014
Review by

oriianking

(Verified Customer) for

Andro Super Core Cell OFF+

on January 1, 2014
Absolutely incredible blade! I wasn't sure at first whether to buy it or not since I had never used andro blades in the past but I'm more than pleased with what it does for my playing. The blade it very fast while maintaining excellent control regardless. I have it with Butterfly Tenergy 80 on the forehand and Tenergy 05-fx on the backhand (which is an amazing combo if you haven't tried it) and the ball response is perfect for all of you spin-driven attackers out there! Overall fantastic blade for a more than generous price!
---
External Review

for

Andro Super Core Cell OFF+

on December 25, 2012
i am probably the only junior and cadet boy in England who uses this blade with short forehand pimples and tenergy 64 on the backhand making this for me a very fast bat. with this blade i can successfully drive with both my forehand and backhand and make a devastating backhand topspin completely taking the player by surprise and if they get that back then the speed on my pimples enhanced by the blade allows me to finish them of with a forehand drive. i use this for close to the table but if i am forced away from the table then i will flip the bat around and chop the ball with the tenergy on my forehand and the pimples on my backhand however for a fully offensive player this blade would probably be useful for mid distance.
---
External Review

for

Andro Super Core Cell OFF+

on May 10, 2012
I have found the Andro Super core cell range to be a quality budget blade. i find that this blade isn't suitable for short game but great for driving and looping with this is not bad either. the head size seems to be smaller than most blades that i have used. ( short, 154mm vs 157mm ) nothing special, i would use it I break my main bat again...
---
Review by

macheeste

(Verified Customer) for

Andro Super Core Cell OFF+

on December 3, 2011
This is the best blade I have ever used. The comfort in the handle fits perfectly into my hand and the control is unbelievable. Every single person that has ever tried my blade says "damn this is a nice blade, it feels good"
I have used this blade with Bryce FX-1.9 and Tenergy 64-1.9, Reflectoid 1.5 and Gamble Peace Keeper (pips) 2.0 Now I have Hexer 1.9 and Hexer Powersponge 1.9 (same rubber different sponge). Offensive rubber or defensive rubber this blade is just right.
---
External Review

for

Andro Super Core Cell OFF+

on October 2, 2009
This is the blade i am currrently using it is a quite cheap blade howevber it isd the best blade i have used you get a very comfortable handle i believe that this is for the attacking player hoqwever i think that you also gety a lot of controll i would reccomend this to most people wh play attakive this is not the begginer blade.