Andro Super Core Cell Carbon OFF
$64
.99
$85.99
Save $21.00 (24%)
Free US Shipping
By the use of Hi-Tec carbon fibers the andro product developers could build a blade which conveys a solid stiffness but does not yet feel too hard – ball feeling par excellence! The carbon-nano strings cause an even better sound when hitting the ball. The excellent plywood combination provides much more speed than similar CARBON blades so far. This results in more stability, fewer vibrations in the blade and better control. The CARBON OFF is slightly top-heavy with a medium ball flying curve. Players with high technical skills willing to take risks will get enthusiastic!
Speed: 92
Control:95
Feel: Hard
Weight:85g

Super Core Cell Technology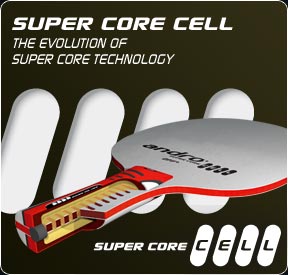 • High rebound effect due to thin outer veneers
• Cell structure in handle for maximum vibration reduction
• Innovative 360 edge protection prolongs durability
• Higher ball flying curve improves hitting area and control
• Strengthened blade fiber structure creates a better energy transport and excellent ball feedback
• Enlarged sweet spot area provides high mistake tolerance
• Decreased level of wrist fatigue due to lower weight

---
Customers who purchased Andro Super Core Cell Carbon OFF also purchased:
Blade FAQ and Guide - what you need to know when buying a blade.
Compare Blades - blade rating comparison chart.
Blade Weight Variations - Actual blade weight may vary by up to 8g.
Best Price Guarantee
We guarantee to have the lowest prices (shipping included) in the US. Please tell us if you see a lower price.
Reviews of Andro Super Core Cell Carbon OFF (8)
External Review
for
Andro Super Core Cell Carbon OFF
on October 28, 2013
I used this Andro Super Core Cell Carbon OFF blade with Yasaka Mark V 1.8 mm on forehand and Andro Hexer HD 1.9 mm on backhand. This is a perfect setup for me since I could do forehand loop easily and consistently with Mark V. I got good feeling everytime I touch the ball for my forehand loop so that I could control well for every shot. It' so enjoyable with slow and control Mark V rubber on an Offensive Andro blade. I am waiting for Andro Hexer HD to be torn out and then I will replace it with Butterfly Sriver EL on my backhand. I am so glad that I bought this blade since it's cheap and very controllable with Mark V rubber on my forehand. Highly recommended.
---
External Review
for
Andro Super Core Cell Carbon OFF
on December 25, 2011
External Review

for

Andro Super Core Cell Carbon OFF

on December 16, 2011
Review by

lovejoyz

(Verified Customer) for

Andro Super Core Cell Carbon OFF

on September 2, 2011
This blades handle is probably the most comfortable out of any bat I've owned. It is a perfect weight for me, as I don't like heavy paddles, however....

This blade does NOT feel like a solid blade. It has a very hollow sound and feel when you hit it. I haven't noticed if the speed that it's supposed to have isn't there yet, as it does hit the ball well. I just don't believe that the sweet spot is enlarged like it says it's supposed to be.

When the ball hits near the edge, it makes a terrible sound and feels shady compared to the other carbon blades I have. I honestly wouldn't be surprised if there was something wrong with it, like a tweak or crack.

I have had blades feel like this, but mostly the cheaper quality, below average blades.
---
External Review

for

Andro Super Core Cell Carbon OFF

on January 22, 2011
Okay, I have this blade with Hurricaine III neo rubbers on both sides. The blade seems super stiff, but slow at the same time. Blocks come off slower than I expected. You kinda need to push them back instead of letting them just rebound off the paddle from your opponents momentum. Doesn't too much play like a carbon blade at all. I usually play with an all wood blade and this seems to have a lot less ball feel, so takes some time for me to get used to looping with this blade. You need to change the style of stroke a bit to loop with this blade. The stroke needs to be more like a drive. That being said, the loops I can now pull off with this combination are amazing! Low and spinny, with a super curve/arch to them. This has a lot to do with the rubber I think. This blade is not for a beginner, but for a more advanced player. Kind of!
a quirky blade, you can't be lazy with it or shots seem to go into the net. Also, the head shape is about the kinda small and doesnt seem to have as big of a sweet spot as a traditional carbon blade. Everything said I rate this blade an 8.
---
External Review

for

Andro Super Core Cell Carbon OFF

on September 5, 2010
Ok, this is my second (and last) review about this blade, after 20 days training with it (and with gewo proton rubbers assembled on it):

As I said before, it's not as fast as I supposed it should be (remember: it has carbon fibers, but is slower than butterfly timo boll spirit, or much slower than butterfly primorac carbon off+). But I think it is more accurate on controlled shots.

It's also quite easy to get used to it in few days. Remember that I was playing with a T11 galaxy blade (faster, but with less control), and I felt like if I was playing lots of years with it in just few hours.

The handle is very comfortable (or at least for me :-)). It has also very good sound when hitting the ball.

Very good passive blocks in near and mid-distance play, a lot of control when "topspinning", but lacks on speed on smashes (at least with this rubber combination).

That's all, folks!
---
External Review

for

Andro Super Core Cell Carbon OFF

on August 17, 2010
Ok, here's my first impression about this blade after 2 days training:

Amazing blade for an allround+ player (I'm now using it with gewo proton rubbers, and lets me slow control play with lots of spin), who likes playing with constant variations on speed. I've not tried with faster rubbers yet (sorry...), but seems to be good for an offensive-controlled play.

Great control on backspin strokes near the table. It's quite usefull on passive blocks too.

In comparison with my older galaxy t11 blade, is a bit slower, but has much more control. In comparison with my yasaka extra, it's faster an has more control, especially on strokes over the table.

Hope it can help you...
---
External Review

for

Andro Super Core Cell Carbon OFF

on November 7, 2008
The Andro Super Core Cell Offensive is a pretty solid, average characterized offensive blade. Theres nothing out of the ordinary, but its still pretty solid.

There is carbon fiber in it, so the weight is not increased a lot, but the speed is. This allows for faster shots that still have good control. The blade itself is pretty hard but actually pretty light, i personally like the feel of it on my hand, except that it is a little to handle heavy.

The design of the blade is also very nice. It is a blue head, with a white and grey and blue handle. It looks very attractive. The handle is very comfortable as well.

I say why not try it out!