Andro Super Core Cell ALL+
$36
.99
$54.95
Save $17.96 (33%)
Sorry, this item is currently out of stock. You may ask us to send you a restocking notification when this item is back in stock.
With this 7-layer Allround+ blade andro has created a powerful blade with strengthened fibre layers. The basic idea for this blade's construction was finding a perfect mix of comfortable playing, low mistake level and top technique. Playing the CELL ALL+ every stroke gives the impression of having hit the ball just perfectly in the centre of the blade. The inner veneers are thinner than in the ALL version which results in a very soft feeling. The CELL ALL+ adds more continuity to the play and transmits a feeling of perfect control. The high ball flying curve forgives a lot of easy mistakes.

Speed: 84
Control:97
Feel: Medium
Weight:80g

Super Core Cell Technology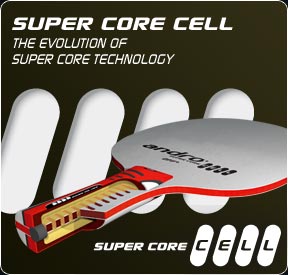 • High rebound effect due to thin outer veneers
• Cell structure in handle for maximum vibration reduction
• Innovative 360 edge protection prolongs durability
• Higher ball flying curve improves hitting area and control
• Strengthened blade fiber structure creates a better energy transport and excellent ball feedback
• Enlarged sweet spot area provides high mistake tolerance
• Decreased level of wrist fatigue due to lower weight

Blade FAQ and Guide - what you need to know when buying a blade.
Compare Blades - blade rating comparison chart.
Blade Weight Variations - Actual blade weight may vary by up to 8g.
Best Price Guarantee
We guarantee to have the lowest prices (shipping included) in the US. Please tell us if you see a lower price.
Reviews of Andro Super Core Cell ALL+ (8)
Review by

therocker

for

Andro Super Core Cell ALL+

on October 11, 2018
paired it with R37 AND R42 for my beginner friend blade. perfect combo. really recommend this blade.
---
Review by

dantheman

(Verified Customer) for

Andro Super Core Cell ALL+

on February 18, 2018
Very weak paddle, hit edge of table in practice match and paddle cracked near handle. Only gave half star because the handle feels good in hand, other than that this paddle would not rate anything .
---
External Review

for

Andro Super Core Cell ALL+

on July 7, 2013
This is quite slow blade with flex and good feeling when touching ball. The blade finishing is very good as andro equip it with edge seal which protects blade from denting it. I have used it for almost 1 year and very happy until realizing that I need more speed for my play. Very good blade for allround and spin game, but it demands your power for finishing point. If pair it with Chinese hard rubber, it feels dead and slow. It will shine if you pair it with medium hard tensor rubber as it will give additional spin due to its flex.
My rating:
- Speed = 7.5
- Control = 8.5
- Stiffness = some flex
- Hardness = medium soft
- Throw angle = high
Updated 5/1/2013:
This blade has the same flex as my yinhe W6, a very good blade for looping. But with more soft feeling. For control, it's not as good as W6 even though it's slower.
---
External Review

for

Andro Super Core Cell ALL+

on April 26, 2012
very good ALL+ blade that gives a good feeling even when you dont hit the ball at the sweetspot (or otherwise said : has a large sweetspot), combined with Tibhar Genius or other Tensor rubbers really good for Allround spin attack, feels also rather light (80g is correct)
i repeat : a good blade, shurely underestimated or not known enough
My Stiga Tube Allround blade is definitely beter though !!!!
---
External Review

for

Andro Super Core Cell ALL+

on June 27, 2011
It is a very good blade if you want to give the best spin in your touchs.
I found just a vibration that I don't want in a blade that flex.
I think it's a very comfortable blade if you play no more than mid distance or close to the table, you can get more as you belive with this blade playing close to the table
---
Review by

chadr7

(Verified Customer) for

Andro Super Core Cell ALL+

on December 7, 2010
great blade gave me the control i needed very forgiving it gives the impression that i cant loop from far not sure if its the rubber im using though
---
External Review

for

Andro Super Core Cell ALL+

on December 6, 2010
very hard to play away from table but great control loud knocking sound light blade comfy i use acuda s3 bh andro hexer fh so far so good
---
External Review

for

Andro Super Core Cell ALL+

on December 1, 2010
It's a good blade to play, I think you can have the feeling you want and the control, you don't have problem. But about speed, this blade generate a very stong hit for mid and close-to-the-table distance, but that's all.
I tried it with Acuda s2 2.0mm in fh and in bh, and its a good spin generator at mid distance because of it is some flex.
But I tried with Coppa turbo platin x1 max in fh and bh, and I can hit as a mortal weapon close to the table and mid-distance.
It's a good blade if you are looking for one that gives you the control of the allwood and the power of the offwood.