Andro Super Core Cell ALL
Sorry, this item is currently out of stock. You may ask us to send you a restocking notification when this item is back in stock.
Who ever tested different allround blades knows that they are not constructed the same at all. Only the exactly correct blade will lead the player to victories. The veneers of the SuperCore CELL Allround have been selected in a way that maximize the mistake tolerance also for balls which are not hit precisely. Compared to conventional allround blades the CELL ALL is made of slightly thicker inner veneers and thus it is more robust. The well-balanced weight provides good control also when a player practice less. The wide range of modern stroke variations can easily be learned with this blade. As the high ball flying curve is very forgiving to mistakes it is the ideal equipment for beginners.
Speed: 81
Control:98
Feel: Medium Soft
Weight:85g
Super Core Cell Technology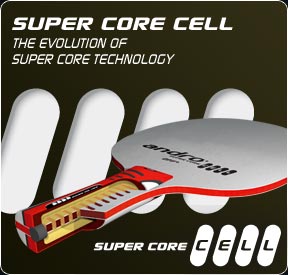 • High rebound effect due to thin outer veneers
• Cell structure in handle for maximum vibration reduction
• Innovative 360 edge protection prolongs durability
• Higher ball flying curve improves hitting area and control
• Strengthened blade fiber structure creates a better energy transport and excellent ball feedback
• Enlarged sweet spot area provides high mistake tolerance
• Decreased level of wrist fatigue due to lower weight

Blade FAQ and Guide - what you need to know when buying a blade.
Compare Blades - blade rating comparison chart.
Blade Weight Variations - Actual blade weight may vary by up to 8g.
Best Price Guarantee
We guarantee to have the lowest prices (shipping included) in the US. Please tell us if you see a lower price.
Reviews of Andro Super Core Cell ALL (2)

Andro Blades

Table Tennis Blades
---
All items are in stock unless otherwise stated. All prices are in USD.
If you need help or advice please contact us. We are happy to help!