Andro CS7 Pro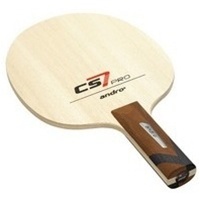 $39
.99
$59.95
Save $19.96 (33%)
The CS7 PRO convinces with a high level of control and the opportunity of playing a number of spin variations. The 7 evenly thick Ayous layers were glued together in a special way so that they interact well and are bendable in different ways. At any time the player gets a direct however not hard playing experience. Recommended for ambitious players acting forward making use of variable topspins!
CS7 Multiply:
• High Base Speed
• Optimum Weight Balance
• 7 Premium Plywood
• Maximum Sweetspot
Speed: 92
Control:94
Feel: Medium Hard
Weight:90g

---
Customers who purchased Andro CS7 Pro also purchased:
Blade FAQ and Guide - what you need to know when buying a blade.
Compare Blades - blade rating comparison chart.
Blade Weight Variations - Actual blade weight may vary by up to 8g.
Best Price Guarantee
We guarantee to have the lowest prices (shipping included) in the US. Please tell us if you see a lower price.
Reviews of Andro CS7 Pro (2)
External Review
for
Andro CS7 Pro
on January 17, 2011
Taking up TT again after decades, I first started with a BFY Timo Boll All+, which I found not stiff enough. I upgraded to the Andro CS7 Pro, which has a nice solid stiffness without feeling heavy and gives a clear and consistent feedback. I like that only one sort of wood was used for this blade. I would rather rate it OFF- than OFF, maybe not fast enough for the power topspin player. I think it is best suited for the controlled offensive player.
I would be prefer the grip surface to be a bit less smooth.
---
External Review
for
Andro CS7 Pro
on December 31, 2010
no body tried this blade? what a pitty cuz this blade truely amazing. 7 ply ayous wood, medium hard or medium i guess. speed are amazing, control excelent. But in my opinion, this blade is not for denfensive players, at least all-round players, offensive players is the best for this blade