Cornilleau Hinotec Off-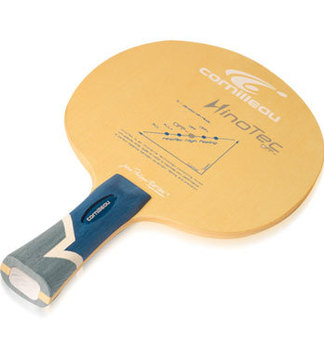 $55
.95
$69.99
Save $14.04 (20%)
Free US Shipping
Hinotec OFF - blade is suited to any game style. Surprisingly dynamic for a blade of this category, it can also satisfy more experienced players, as long as they choose fast rubber sheet (with a little confidence : Jean-Philippe Gatien took it up straight away!), as well as the most polyvalent players seeking responsiveness in this attacks.
Speed: 83
Control: 68
Weight: 85
Plies: 5

---
Customers who purchased Cornilleau Hinotec Off- also purchased:
Additional Information
Blade FAQ and Guide - what you need to know when buying a blade.
Compare Blades - blade rating comparison chart.
Blade Weight Variations - Actual blade weight may vary by up to 8g.
Blade Sealing/Varnish
You may
add blade sealing
for this blade. Sealing prevents wood splintering.
Best Price Guarantee We guarantee to have the lowest prices (shipping included) in the US. Please tell us if you to lower price.
Reviews of Cornilleau Hinotec Off- (4)
External Review

for

Cornilleau Hinotec Off-

on June 17, 2013
Very fast (for OFF-) because catapult effect. Fell solid and power, but massively. Weight is 83gr. With Friendship FX good for beginner. Very fast and much spin with Dawei Inspirit, with a soft feelings (for a very good player).
---
External Review

for

Cornilleau Hinotec Off-

on February 26, 2012
External Review

for

Cornilleau Hinotec Off-

on January 25, 2012