Cornilleau Hinotec All+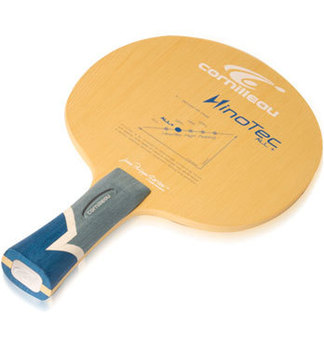 $55
.95
$69.99
Save $14.04 (20%)
Free US Shipping
A model of tolerance, Hinotec ALL+ blade is reassuring. Whether you are a prevalent player, or just a beginner, this is for you! Don't get the wrong idea, this blade isn't slow. It provides startling sensations of control and ease of play, without ever letting you down when you need to speed up or strike the killing blow.
Materials Hinoki, Limba, Ayous
Speed: 70
Control: 75
Weight: 85
Plies: 5

Blade FAQ and Guide - what you need to know when buying a blade.
Compare Blades - blade rating comparison chart.
Blade Weight Variations - Actual blade weight may vary by up to 8g.
Blade Sealing/Varnish
You may
add blade sealing
for this blade. Sealing prevents wood splintering.
Best Price Guarantee
We guarantee to have the lowest prices (shipping included) in the US. Please tell us if you see a lower price.
Reviews of Cornilleau Hinotec All+ (2)
External Review

for

Cornilleau Hinotec All+

on September 9, 2013
A very decent blade from Cornilleau, with an excellent build quality. Offers a good control, enough speed when attacking. I just find it a bit too hard for my taste, I prefer softer blades (I think it's due to the varnish applied on the blade as the wood essences used should be pretty soft). Not my preferred blade but still a good compromise between speed and control, I keep it in case my main blade has a problem someday.
---
External Review

for

Cornilleau Hinotec All+

on March 1, 2011
This blade felt great to me. More than enough speed when I wanted to hit the ball hard. It had a lot of dwell time so I felt like I could really spin the ball. And it had a lot of control for touch shots and short game. This blade seemed pretty good for an offensive minded player who wants to loop with enough power when you drive the ball. Oh yeah, the handle feels great.