Andro Super Core Carbon Light ALL+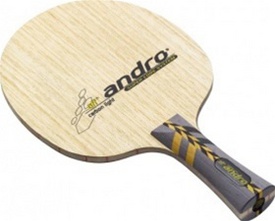 $49
.99
$84.99
Save $35.00 (41%)
Sorry, this item is currently out of stock. You may ask us to send you a restocking notification when this item is back.
Exact ball placement - an easy task for this high-class carbon-blade. Unbeaten in its ball feedback and preciseness when changing from active to passive play. Very suitable for short strokes at the table and best control when counterattacking - these are top pre-requisites for modern table tennis.
More and more players are asking for light weight blades. Looking at former times, carbon-blades mostly had a weight between 85 – 90g. In modern table tennis players ask for lighter blades. andro's research achieved a vitally break by finding a solution to reduce the weight. The new Super Core Carbon light series weight is around 70g which is up to 20 % lighter, compared with most of former constructions.
FEELING - Research was titled "Not faster - but more precise". Today's top player demands high standards of his blade. Especially in regards to ball feedback and steady ball rebound he does not want to make any compromise. The Super Core centre in the handle is set-up for a fast absorption of vibration impacts and prevents the discomfort of post-stroke-swings. The carbon fibres enlarge the sweet spot and provide excellent control.
BALANCE - Perfectly co-ordinated weight-balance allows a fast handling amongst forehand- and backhand–strokes to players of all levels. These superlight blades minimise the exhaustion during the play and allow shorter and faster arm movements while playing topspins; just the way as table tennis is performed today.
SPEED - Despite their light mass, Super Core light blades provide high acceleration figures. Excellently co-ordinated veneers, additionally strengthened by thin and super-light carbon-fibres, enable fantastic energy-transfer and lot of effective power.
MATERIAL - Elastic and super thin carbon-fibres guarantee high stiffness. In contrast to classic blades, deterioration of Super Core Carbon light blades starts very late and slowly. The advantage: Same constant features and ball feeling for many years. Moreover, the carbon fibre-strengthened construction reduces the risk of breaking significantly.
Speed: 70
Control:80
Feel: Medium
Weight:70g

Additional Information
Blade FAQ and Guide - what you need to know when buying a blade.
Compare Blades - blade rating comparison chart.
Blade Weight Variations - Actual blade weight may vary by up to 8g.
Best Price Guarantee We guarantee to have the lowest prices (shipping included) in the US. Please tell us if you to lower price.
Reviews of Andro Super Core Carbon Light ALL+ (7)
Review by

rsasrt4

(Verified Customer) for

Andro Super Core Carbon Light ALL+

on September 26, 2016
Review by

rdax

(Verified Customer) for

Andro Super Core Carbon Light ALL+

on February 12, 2012
External Review

for

Andro Super Core Carbon Light ALL+

on October 6, 2010
Very light blade.
It sounds hollow when striking the ball, which may not suit everyone's preferences.

The handle is a bit uncomfortable, it feels like you might get splinters in your hands.
---
External Review

for

Andro Super Core Carbon Light ALL+

on May 25, 2010
Great blade for players who like´s to play near the table. Good control and good feeling, we can make good strikes on the table, but far away from the table has more difficulty. The sounds is very strange we strike the ball.

I make only one game with this blade and ithe sensatios is like a always play with it.
---
External Review

for

Andro Super Core Carbon Light ALL+

on May 18, 2010
If you like very light blade this is for you.
Very good control and enough speed for an allround game.
Great feeling with every rubber but not very powerful.
---
External Review

for

Andro Super Core Carbon Light ALL+

on September 22, 2009
External Review

for

Andro Super Core Carbon Light ALL+

on April 28, 2009
One of the greatest all round blades out there.

It has a great feeling, control, and a light weight that makes it so easy to use, that its almost unfair

Its works with every rubber, and with every stroke in the manuals .)

Great blade for starters and all rounders close to the table.

You´ll fell in love with its pitchy sound ^^