Stiga Calibra LT Spin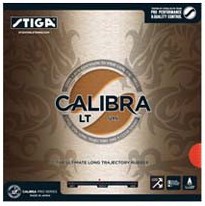 Calibra LT Spin has a medium soft sponge recommended for highly trained attackers and loopers who emphasize tactical spin. You will have outstanding control for touch shots and service return, but when you are attacking you will experience new levels of possibility.
Speed: 95
Spin: 92
Control: 70
Hardness: Medium
---
Customers who purchased Stiga Calibra LT Spin also purchased:
Rubber FAQ and Guide - what you need to know when buying rubber sheets.
Compare rubber ratings - compare ratings to other sheets.
Best Price Guarantee
We guarantee to have the lowest prices (shipping included) in the US. Please tell us if you see a lower price.
Reviews of Stiga Calibra LT Spin (22)
View all 22 reviews
Im used clalibra LT spin on my forehand testing on stiga clipper cr non wrb blade,actually this rubber isn't give you a Hard spin,but this rubber give you a lot of control and very bouncing. I think this rubber for tactical loop players who have a good placement ball. This rubber is really easy to break so you have to take care,clean it after practice. Recommended this rubber for you.
---
Superb control and spin on this rubber. One of the Stiga's best ever. Lasts for about 2 years of constant playing league + 1 or 2 training a week.
View all 22 reviews

Stiga Rubber

Table Tennis Rubber
---
All items are in stock unless otherwise stated. All prices are in USD.
If you need help or advice please contact us. We are happy to help!