OSP Martin OFF Pro
Price: $135.00
$139.99 Save $4.99

Free US Shipping
Medium head size, neutral handle, available in Flared Handle (FL) or Straight Handle (SQST).
The blade of Martin Palatinus our Junior Champion 2010. Another representative of our Pro category. Slightly more feeling & control than Musko OFF Pro.
This blade is designed to meet the requirements of Martin Palatinus our Junior Champion 2010. This blade is also put into our Pro category remarking the performance and the fact it also needs skilled players to exploit all the blade's features. OSP Martin is a result of not only 12 year playing experience with handmade blades but also evolving a successful offensive playing strategy. We created the final version with collaborating a couple of european pro players who demanded 7-ply aggressive blade with fine Limba feeling to rule all kind of offensive stroke and overpower incoming effects.
It is slightly spinner than Musko OFF Pro due to the different layer construction with Limba surface we achieved a bit more sensitive working at short game as well as serving and returning without losing speed or stiffness. As a result we have an offensive blade with expanded playing distance. Although OSP Martin plays its best from mid distance you do not have to bother about being forced to closer or further. This blade also cooperates well with offensive short pips as the latest test says. Results offensive dead ball effect.
Weight: 90-94g
Speed: 100
Control: 90
Spin: 90
Arc: 85
Dwell Time: 85
Stiffness: 90
Outer Ply Hardness: 80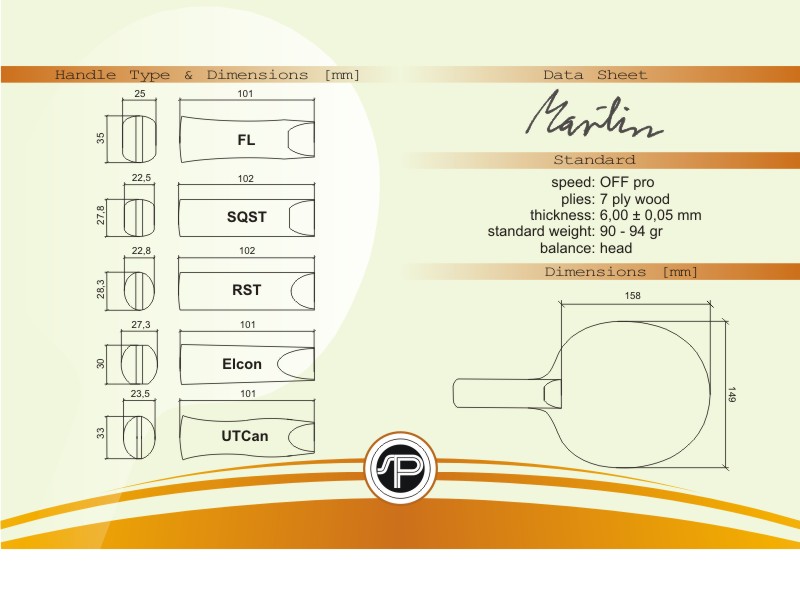 ---
Customers who purchased OSP Martin OFF Pro also purchased:
Ordering Information
OSP Comparison Chart
Definitions
Stiffness (Bending strength)
This is a complex parameter depends on thickness, number of plies, grain direction, laminating technique, head size. Stiffer blade increases control but generates lower arc and less spin.
Outer Ply Hardness
Outer ply transfers ball contact towards the player. The harder outer ply is used the clearer ball contact is delivered. Harder outer ply regularly provides faster and stiffer blade with short dwell time.
Control
Indicates the handling factor of a blade. Higher is better. Usually the best plan is to choose the fastest blade you can still handle well but you need to clearly know your skills.
Spin
The ability of generating spin. Depends on speed, stiffness, head size, outer ply hardness. Comparing to mass production blades OSP Blades generates preferably higher spin with the same rubbers. It helps to get advantage during the rally.
Arc
This is the sinuosity of the balls way that is attached to the spin generated by the paddle. OSP Blades bites and lifts the ball well compared to mass production blades that means you need shorter stroke that provides the opportunity faster swing back.
Dwell time
This is the time the ball spends on the racket between in and outbound phase. Longer dwell time lets you react and increases control and the ability to generate more spin.
---
Blade FAQ and Guide - what you need to know when buying a blade.
Compare Blades - side-by-side blade rating comparison.
Blade Weight Variations - Actual blade weight may vary by up to 8g.
Free shipping over $50 to continental US.
Best Price Guarantee We guarantee to have the lowest prices (shipping included) in the US. Please tell us if you find a lower price.
Reviews
Submit a short review about OSP Martin OFF Pro.