Cornilleau Lifestyle - Black
Free curbside shipping with liftgate delivery to contiguous US locations.
Color: Black
Another way to play table tennis
Every detail of this new Lifestyle table has been carefully examined, creating a unique look that combines table tennis with elegance and style without compromising playing quality. Captivate yourself with a table that brings together the worlds of fine furniture and table tennis with its superior materials, iconic design and excellent level of finish.
A sleek design - Iconic for its unique and stylish look, the lifestyle table is designed to enhance any space. Simple and elegant, it works perfectly as a decorative piece for both those who love beautiful plays and those who just love beauty.
Ultra-durable materials - Just like the joy of playing table tennis, an elegant appearance should last. This new table has a sturdy design based on materials that are proven to be durable. The solid-core laminate table tops, the steel structure coated in epoxy paint, and even the stainless screws make the outdoor Lifetsyle table long lasting.
Tropical wood feet - A quintessentially noble wood, Moabi is resistant to all kinds of weather conditions. its matte finish and uniform grain give the outdoor lifestyle table a unique look, reinforced by an anti-UV treatment to maintain the finish over time.
Racket and ball storage - Do you want to start up a spontaneous game? There's no need to search for rackets and balls! With the convenient storage (that is made for this exact purpose), they're always within arm's reach. It is discreet, can be reached without bending down, and can hold two rackets and six balls.
Non-slip swivel feet - Not all outdoor spaces are on perfectly even ground, but your ping pong table needs to have a level playing surface. With its height-adjustable swivel pads, the feet of the outdoor Lifestyle table allows it to adapt to all kinds of terrain. Set up your table wherever without compromising the quality of your game. Being non-slip, they help to stabilize the table.
Detachable net - To make use of its sleek lines when you're not playing, you can easily take the metal net out of its supports and store it under the table, removing it from view. The magnetized supports that hold it can also be placed on the side of the table. The alternative fabric net will also fit this table.
Rackets and balls included - Two Nexeo X70 rackets are provided with your outdoor Lifestyle table tennis table so that you can immediately enjoy a game! These resilient rackets provide a good playing speed and offer a great experience for both beginners and seasoned players. The rackets come with 6 outdoor balls that, being more lightweight than standard balls, are less susceptible to outdoor conditions and stay closer to their trajectory.
Very good rebound quality - With its 6mm-thick resin laminate playing surface, the Lifestyle table tennis table offers you a great playing experience. The thicker the panel, the better the bounce. The rebound quality of this table will be appreciated by players of all levels - from beginners to those who expect the very best.
Anti-glare coating - To play at the top of your game, you need to make sure you can play in the sun without being blinded by glare. The MATTOP finish absorbs the intensity of the sun's rays and reduces their glare tenfold compared with an uncoated table. The only thing that will leave you blinded is the superior quality of your forehand and backhand shots!
Steel frame - The frame is the metallic structure that supports the playing surface. Intentionally refined for obvious aesthetic reasons, the outdoor Lifestyle table tennis table provides a perfectly flat and stable playing surface.
• Playing Surface: Resin Laminate 6mm
• Coating: MATTOP
• Plastic Parts Color: Black
• Frame Height: 38 mm / Aluzinc® Black Painted
• Leg (type / dimensions): Spindle Moabi / 732-50 - 45mm varnished
• Adjustable lLeg Pad (type / dimensions): 3D adjustable / 73x73 mm
• Net Type: Grey painted metal / Removable and storable
• Ball Storage / Number of Balls: Yes / 6 balls supplied
• Racket Storage / Number of Rackets: Yes / 2 Rackets provided
• Finishes: Frame and Structure: 1 color / Black plastic corners
• Class (European standard): EN 14468 - CLASS C
• Approval: FFTT leisure practice
• Weight (table only): 168 lbs
• Packaged Weight: 205 lbs
• Warranty: 10 years + repairable 20 years
• Open Table Size: 274 x 167 x 76 cm (excluding net) (L x W x H)
• Made in France
Additional Material
Cornilleau has been making tables in France for over 45 years. They utilize state-of-the-art production methods for their tables, use only the highest quality materials, and employ a thorough quality control process resulting in some of the most durable tables on the market.
10 things to consider when purchasing a Cornilleau table »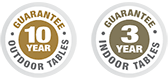 Cornilleau Warranty
Cornilleau tables are backed by some of the strongest warranties in the industry with a 10-year warranty on outdoor tables, a 3-year warranty on indoor tables and a guaranteed 20-year availablilty of spare parts from the date of purchase.
This 10-year/3-year warranty applies to all components except wear parts - wheels, net and net posts. All Cornilleau tables adhere to the European safety standard EN 14468. In order to ensure the highest level of safety, Cornilleau has positioned itself a long way above this standard.
About Cornilleau
Cornilleau is a family owned business is located in Bonneuil-les-Eaux in the Picardy region of France. Their strategy is to utilize a think tank approach for their designs and then test those designs in their own research and development facility.
Cornilleau tables designed to meet the needs of players at the competitive level all the way through to the basement and backyard enthusiast. Cornilleau has earned a highly favorable name in the table tennis industry as witnessed by their company being selected as the official sponsor for the World Cup team event in 2007, 2009, 2010 and 2011.
---
---
---
Warranty Plus: Additional Warranty Support If Needed
Megaspin offers additional support to standard manufacturer policies, at no extra charge, to ensure that any warranty claim or product defect issue is resolved in the shortest time possible and to your maximum benefit. You can communicate with the manufacturer directly but if you are not happy and need our support team to step in, we will be there to help. See what others are saying.
Best Price Guarantee
We guarantee to have the lowest prices (shipping included) in the US. Please tell us if you see a lower price.
Reviews

Cornilleau Tables

Table Tennis Tables
---
All items are in stock unless otherwise stated. All prices are in USD.
If you need help or advice please contact us. We are happy to help!