Cornilleau 500 Indoor
$1,199
$1,440.00
Save $241.00 (17%)
FREE SHIPPING with liftgate delivery to contiguous US locations. Most deliveries take 5-9 business days.
This is the latest edition with improved wheels and better warranty.
Formerly known as Cornilleau Sport 500 Indoor and Cornilleau Competition 500 Indoor.
With a steel frame made from galvanized steel and a high density chipboard playing surface that is almost an inch thick, the Cornilleau 500 Indoor manufactured by Cornilleau is one of the top, high end table tennis tables on the market. With a 3 year manufacturer warranty, Cornilleau stands behind their products, knowing they will stand the test of time and continuous play. Cornilleau standard features include quality production and materials, ease of use, best safety design, excellent warranty, and playback mode. In addition, the Cornilleau 500 Indoor features:
• 7/8" high-density chipboard playing surface
• 1 3/4" structural galvanized steel frame to support the playing surface
• Ball and racket storage on each side of the table
• 6" Special indoor double wheels
• Permanent weather-resistant polyester net system with tension and height adjustment
• Retractable net that automatically folds in-between the tops for protection and to reduce storage space
• Sturdy leg design looks great and provides solid support for the table
– Corner protectors for added safety
• 2 Wheel brakes to secure the table in play mode or storage mode
– Adjustable leg height to smooth out uneven surfaces
– Ball dispenser on each playing edge of the table
– Transport handle lets you easily pull and lift the table to avoid obstacles
• 3 years warranty on materials and workmanship
SKU#155600
• Package dimensions: 62" x 56" x 6"
• Shipping weight: 238 lbs
Cornilleau has designed, developed, and produced high-quality table tennis (ping pong) tables at their plant in France for more than 45 years. Cornilleau products are available in over 75 countries worldwide. State-of-the-art production methods, high quality materials, and a thorough quality control process result in the best tables on the market. Cornilleau tables are produced using galvanized steel and other anti-corrosion materials to provide many years of play.
Additionally, all of the portable models are easy to fold, provide the playback feature, and include the patented DSI® safety system. DSI® allows the table to be opened and closed quickly and safely with a single handle accessible from the playing-edge. With 16 locking points, Cornilleau tables have the highest level of safety on the market.
Cornilleau 500 Pros and Cons
Pros:
• Quality bounce, sturdy construction, and easy storage & portability make this a great choice for recreational players and enthusiasts alike!
• Built-in ball and racket holders.
• The DSI folding and locking mechanism is one of the most secure systems on the market. With a central release handle that controls 16 locking points, it's incredibly safe and easy to use.
• Fold-up playback mode.
• Cornilleau stands behind their indoor tables with a 3-year warranty.
Cons:
• Fixed net system is convenient but limits replacement options.
• Not ITTF Approved.
• Only available in blue. If you're looking for a different color, check out the Killerspin Pocket table series that come in a variety of colors.
• This table requires assembly, for a comparable option that arrives assembled consider the Butterfly Space Saver 22.
Additional Material
---
Customers who purchased Cornilleau 500 Indoor also purchased:
Cornilleau has been making tables in France for over 45 years. They utilize state-of-the-art production methods for their tables, use only the highest quality materials, and employ a thorough quality control process resulting in some of the most durable tables on the market.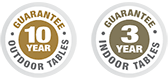 Cornilleau Warranty
Cornilleau tables are backed by some of the strongest warranties in the industry with a 10-year warranty on outdoor tables and a 3-year warranty on indoor tables.
This warranty applies to all the various components with the exception of wear parts (wheels, net and net posts). All Cornilleau tables adhere to the European safety standard EN 14468. In order to ensure the highest level of safety, Cornilleau has positioned itself a long way above this standard.
---
See what's on sale in May 2020.
What to look for, what to avoid, and more.
Truck delivery info, extra services etc.
Warranty Plus: Additional Warranty Support If Needed
Megaspin offers an additional layer of support to standard manufacturer policies, at no extra charge, to ensure that any warranty claim or product defect issue is resolved with the manufacturer in the shortest time possible and to your maximum benefit. Our responsive and enthusiastic support team will be there to help you when you need us. See what others are saying.
Best Price Guarantee
We guarantee to have the lowest prices (shipping included) in the US. Please tell us if you see a lower price.
Reviews of Cornilleau 500 Indoor (3)
Review by

greendg7

for

Cornilleau 500 Indoor

on February 16, 2019
Well bought this table from another vendor, and the paint on the surface looks thin and transparent. I can see white coloured wood chips under close examination. Paint transfer to balls after 30 min of play. Scratches easily too. Took almost two hours to set up! Cornilleau did not offer a good explanation or a resolution.

Really can't recommend this company. I suggest you look elsewhere

Edit: Cornilleau response: The 500 Indoor is a painted wood surface. The paint should not come off on the ball. If this is an indoor table and it was exposed to moisture the top finish could have been damaged. The tops of any indoor table will scratch which is why the outdoor laminate surface is stronger as it is shockproof. The assembly of most "one piece" style tables take 1-2 hours depending upon the assembler's experience and this is true for Cornilleau tables as well as other manufacturers.
---
Review by

guest_2hj0rug0

(Verified Customer) for

Cornilleau 500 Indoor

on May 27, 2016
The table is remarkable. The assembly instructions were easy to follow and took about 2 hours. We have used the table almost daily for the past two months and it performs wonderfully. My only suggestion is related to delivery. I sought to follow the instructions to check the table for damage upon delivery but the delivery person stated that he did not have time to wait for me to do this. I showed him the instructions and refused to sign until I finished the package inspection. He stated that because he had to wait I would be charged for the extra 12 minutes. While I knew this was ridiculous, others may be intimidated by such a stance.
---