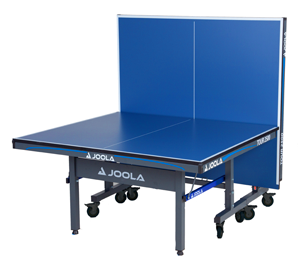 Cyberweek Table Deals
Updated November 17th, 2022
🎁 Black Friday Price Guarantee
If you order a table or robot before Black Friday, and the same item is in stock and cheaper on our website on Black Friday weekend (11/25-11/28), we will refund you the difference.
Due to high demand and limited inventory we expect some table and robot models to be out of stock, so we encourage you to order early.
Cyberweek Deals
Indoor Recreational Tables
JOOLA Tour 2500 with racket bundle for

$829.95

- Order Tour 2500 with 4 x Infinity Edge rackets.
JOOLA Tour 2500 for

$729.95

- Affordable competition-grade table for home
JOOLA Tour 2500 with robot bundle for

$829

- Order our best selling table with an IPONG bundle.
JOOLA Tour 1800 for

$599.95

- Lighter than Tour 2500, more affordable, a good bounce for most players.
Outdoor Recreational Tables
KETTLER Outdoor 6 Bundle w/4-Racket Set, Balls and Table Cover for

$1,649



ITTF-Approved Competition Tables
Butterfly Centrefold 25 Blue for

$2,362.49

(Butterfly's flagship table, blue)
Butterfly Centrefold 25 Green for

$2,362.49

(Butterfly's flagship table, green)
Butterfly Europa 25 Blue for

$1,899.99

(Butterfly's top stationary table, blue)
Butterfly Europa 25 Green for

$1,580.03

(Butterfly's top stationary table, green)
Butterfly Space Saver 22 Blue for

$1,732.49

(Butterfly's most compact table, blue)
Butterfly Space Saver 22 Green for

$1,732.49

(Butterfly's most compact table, green)
Butterfly Octet 25 Blue for

$2,094.74

(2-piece ITTF-approved 25mm table w/wheels, blue)
Butterfly Octet 25 Green for

$1,763.99

(2-piece ITTF-approved 25mm table w/wheels, green)
More Butterfly Tables on Sale →
Table Bundles and Bulk Discounts
Indoor Table Recommendations
Outdoor Table Recommendations
---
Buying Considerations
Who will be using it?
Beginners and Recreational players - If the table is for a beginner or if you are looking to use the table for fun in your garage or basement, you do not need a professional table built for tournaments. It would be sufficient to purchase a basic home table or a high-end home table. If space is limited, and the table is required solely for recreational reasons, you might want to have a look at the non-standard small tables.
Schools, Game Rooms and Recreational Centers - If the table is meant for use by several players, durability and robustness should be the first things to consider. In this case you need to look for a high-end home table, if low on budget, or a competition table. We also offer refurbished competition tables which are ideal for organizations with a tight budget looking for a top-quality table.
Tournament Players and Table Tennis Clubs - If you intend to use the table competitively or for professional match training, look for a competition table or for a refurbished competition table. Competition tables offer a thick surface (greater than 3/4") allowing for a very consistent bounce across the entire surface. If you intend to organize competitions ensure the table description says it is ITTF (International Table Tennis Federation) Approved or USATT (USA Table Tennis) Approved.
Rollaway or Stationary?
Stationary tables are generally more stable than the rollaway tables on wheels. However, unless you are buying a competition or have ample space to have a stationary table permanently set-up, it is recommended to go with a rollaway table. Naturally, the larger the wheels, the easier it will be to move the table around.
Will you be using the ping-pong table outdoors?
If want to have the option of playing table tennis outdoors, look for an Outdoor table. Outdoor tables normally have the top, bottom and sides encapsulated in aluminium to be more resistant to moisture and warpage. Such tables would also have wheels so you can fold the table in two halves to move it easily for storage.
Features to consider
Playback Mode - Tables with this feature allow you to lift one side of the table vertically to practice alone. While this feature is popular with beginners and children, other players will realize that practicing this way is not very effective because the ball will not follow the natural trajectory experienced during a table tennis match, especially when basic spin is applied. Players looking to improve their skills alone would normally purchase a table tennis robot.
Table Surface Thickness Indoor tables are normally 15mm (~5/8") to 25mm (~1") thick. Competition tables are 22mm-25mm thick, but unless you play in tournaments, you will barely notice the difference. A 22mm or 25mm table top will offer a consistent bounce and is recommended for serious players. Outdoor tables are normally thinner and are made of aluminum or resin. This results in a metallic bounce, but the material helps durability in outdoor conditions.
Frame Chassis and Legs These features determine the table's stability. Consider the thickness of the table legs, the table frame and the number of connection points in the table chassis to determine the stability and strength of table.
Read More
Related Links
Have questions?
Please use the contact form to ask us about our tables.